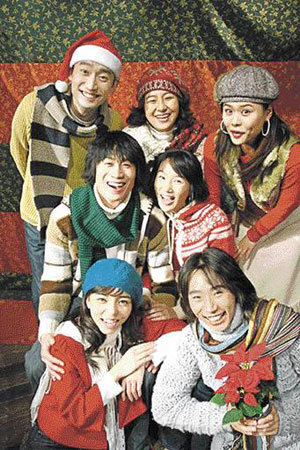 If you want to feel warm this cold winter, I suggest that you go to the Yeonwoo Little Theater in Hyehwa-dong, Seoul.
At the mention of "Yeonwoo Little Theater," you may feel an ache in your back and hips. Yeonwoo Little Theater has hard seats while many other theaters have comfortable and soft seats.
Nevertheless, the creative musical, "Oh! While you were sleeping" will warm your heart by giving you bright smiles and touching impressions for an hour and 40 minutes.
The setting of the musical is a free Catholic medical facility. Choi Byeong-ho, a patient paralyzed in half of his body, disappears at night. Father Peter, who is the director of the medical facility, becomes anxious about him since Choi is supposed to appear in an interview on a live broadcast of a Christmas special for collecting donations the next day.
Father Peter tries to find out Choi's whereabouts by asking Chung Sook-ja, an alcoholic who was at odds with Choi, Lee Kil-rye, a senior with Alzheimer's disease, Jeong-yeon, an innocent volunteer worker, and Dr. Lee, a physician.
All this unfolds on one night, Christmas Eve, like a detective story, and the past and personal stories of the characters are introduced. The musical is an excellent work that shows the kind of subject matter that can be used to create a cheerful and popular musical, and it also shows the bight future of creative musicals played in little theaters.
Chang You-jeong (29), a young producer responsible for the play's script, lyrics and production, breathed fun and touching impressions into the musical at the right moments.
Father Peter, who shows two faces: a faithful clergyman and a director who has an eye on donation money, sings: "Choi is gone and the church has no idea what to do," provoking laughter among the audience.
In the latter part of the musical, in which the personal story of Choi and the warm-hearted "plot" of staff members of the medical facility are revealed, people in the audience began to sob. But the musical has a cheerful ending, not a hackneyed one.
Of course, there are some unsatisfactory elements, such as a lack of reasons why Choi has to disappear, one or two jokes, and the insufficient singing ability of some actors. However, those factors never undermine the fun of the musical.
Great lines, such as "Scars have only depth, not size. There is no knowing whose scars are bigger," are worth appreciating.
The live play of a trio band, especially the guitar play, enhances the attractiveness of the musical.
The musical runs until January 8, 2006. Musicals are at 8 p.m. on Tuesdays, Thursdays, and Fridays, 4 p.m. and 8 p.m. on Wednesdays and 3 p.m. and 6 p.m. on Saturdays and Sundays. Entrance fee : 15,000 ~ 20,000 won. Tel. 02-762-0010
Sue-Jean Kang sjkang@donga.com