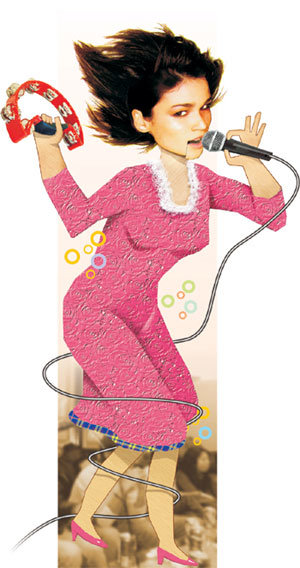 The year-end holidays worry 40 year-old office worker Chung Yeon-jun.
"What song should I sing this year? I should prepare at least two songs so I won't look bad in front of my friends. What props should I prepare? I heard that sexy dancing is the latest trend," he says.
December is a month packed with year-end meetings and parties. While everybody is having a good time wishing each other a happy New Year, some people consider December an awful month. Those are people intimidated by karaoke.
A three to four minute song sung at a holiday party determines the image of a person. If he or she sings well, they will become an instant star, but if they fail to do so, they will become losers.
For those people intimidated of singing, three singing instructors have come to the rescue. Below, they tell all the secrets to becoming a "year-end party star," from selecting the right song to dancing with the right moves.
Prepare Three Songs: a Dance, a Ballad and a Trot—
Singing instructor Song Gwang-ho, who hosts the "Jolly Singing Class" that airs on the cable channel C&M, says, "Over 50 percent of the outcome is decided by what song is chosen." Song suggests to prepare at least three songs. In other words, prepare songs from different genres such as a ballad, dance, and trot in order to prepare against cases where one sings a ballad song and is asked to sing another, or to sing a dance song when following up someone who has sung a ballad. The reason for this is that when people listen to the same genre, they lose interest.
For ballads, Song advises one to choose easy ballads such as Noh Sa-yeoun's "Mannam" (Meeting), Choi Jin-hee's "Labyrinth of Love," Yoon Do-hyun's "I Must have Loved," or ballads that are mixed with the trot genre, such as Jang Yoon-jung's "Jjanjjara," and Park Sang-chul's "Jaokah." Another option would be songs that are liked by both older and younger generations, such as Lee Moon-sae and Lee Seung-chul. According to Song, "Jang Yoon-jung's 'Oh My' is a song that everybody thinks of singing, so there are high chances of overlapping, but if you sing 'Jjanjjara' or Seo Joo-gyung's 'Plucky Woman,' you will be able to become popular."
Lastly, Song cautioned of three things. First, avoid singing gloomy songs such as "The Ungrateful Son Cries"; "Let's Go to the 38th Parallel"; and "The Letter of a Private Second Class." Second, don't sing difficult rock songs such as those sung by Kim Kyung-ho and Kim Jong-seo. Lastly, try not to sing songs that are originally sung by the opposite gender, so men should avoid singing songs sung by women and vice-versa.
Improve Pushing and Pulling Movements and Vocal Skills When in Front of the Microphone—
Myongji University Social Education Graduate School professor and singing instructor Moon In-sook points out, "Even if you chose a good song, if you don't push and pull, the song isn't lively. In the case of a 4x4 beat song, if you sing according to the beat, it will only sound like you are reading the lyrics. Break the beat up into 16 or eight beat notes, drag a beat, and sing like you are inhaling in the next beat to add more fun to your song."
Pushing and pulling is also needed in rhythmic movement. Professor Moon recommends, "Even you don't dance as sexily or as good as the professionals, you can grab the attention of the audience by slightly shaking your body. When shaking your shoulders, it is better if one part is pushing forward while the other side is pulling back. In order to sing and move like this, you should basically memorize all of the lyrics."
Her last piece of advice was, "If you are only busy looking at the lyrics on the screen and don't keep eye-contact with the audience, the audience will also be doing something else. You should know the lyrics so you can put emotions into your singing as well as move naturally."
Attitude: Practice 20 Times Before Actually Singing—
Singer and singing instructor Seo Soo-nam says, "The basis of singing is imitation. Before going to a party or meeting, listen at least 20 times to the song and practice it 20 times in a karaoke setting. The only solution to singing is practice. If you sing about 20 times, you will know yourself what you lack as a singer, and in what parts you are good. In addition, people who can't sing well should choose fast songs rather than slow songs, so people are less likely to notice."
He also emphasized manners in year-end parties. Singing a song that has already been sung, being carried away by a song and singing louder than the singer, requesting a person to sing while he/she himself/herself chat without listening to the singing are things to be avoided.
bsism@donga.com