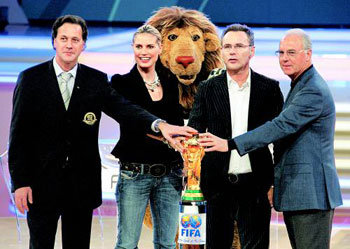 "I will bring back the joy of the 2002 World Cup. Trust me on this."
Dick Advocaat (58) was full of confidence when he sat down for an interview at Leipzig's Neuse Messe Convention Center on December 9.
His attitude was relaxed and humorous, but he spoke with confidence, "Korea can do more than make the final 16 in the Germany World Cup; you will see."
"Korean players have infinite potential. They proved this by making the final four in the 2002 World Cup. If you train them well, they will play well without losing their nerve, no matter how tough the opponent is that they face."
Advocaat places his hopes on the Korean players' ability to put mind over matter. The players' capacity with regards to stamina and skills has been doubly upgraded compared to 2002, and they do not question the manager's orders. Advocaat's view is that such an attitude will surely "make something happen."
"I have never seen players who listen as well as Korean players do. All I need to do give directions so they can demonstrate their capacity. But that takes training. You learn how to play against tough opponents by playing against them."
Advocaat restated the importance of overseas training that will take place in January next year.
"Park Ji-sung and some players playing in Europe will play well no matter who they play against, but inexperienced players will lose their nerves and play poorly. That is why the overseas training in January is important to them. Without training, you can't expect good results." Regarding the technicality of the overseas training next year, Advocaat said, "I will go back to Korea and ask the managers of pro clubs for their consent. I will train these players well and not cause any damage to their clubs."
Jae-Yun Jung jaeyuna@donga.com