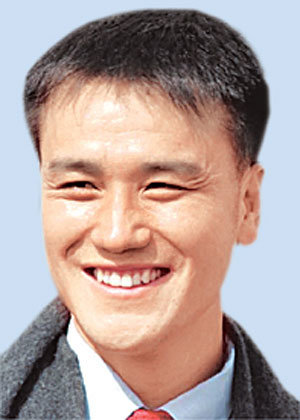 "The way the seeds are allocated has totally changed. One might say that FIFA has less influence. Some complain that the standards change every game."
On a plane to Leipzig yesterday, Kim Ju-sung, (40, photo) Korean Football Association's chief of international affairs, expressed dissatisfaction with the 2006 Germany World Cup's main round seed allocation that was announced two days ago.
"It is best to stay clear of European opponents. In past World Cups, the winners usually were from the continent where the games are held. In the 2002 Korea-Japan World Cup, Asian nations had a good run. The hosting continent has an advantage."
Kim, who had played two seasons for Germany's Bundesliga in 1992-93 and 1993-94, stressed that the Korean players should adapt to Germany when it comes to technical matters.
During the summers in Germany, it rains more frequently than in Korea, and the grasses are almost always wet, making it feel like one is playing in the mud. This drains stamina twice as fast than when playing at home. Kim points out that the German grass does not stand up like in Korea, but lies back, creating more resistance.
Kim will observe the World Cup grouping lottery on the morning of December 10, and carry out some official duties such as booking hotels for the national team and visiting the three cities where the Korean team will play.
Nicknamed "Wild horse" in his hay days, the three time-World Cup veteran Kim was appointed as the chief of international affairs last month.
Kim had been building up his experience and skills to become a football administrator. The one year of training he received at FIFA in 2003 was especially helpful to Kim.
"I've gained a lot of knowledge, but more importantly, I've gained a network of colleagues who are football administrator all over the world."
His contemporaries now work in various sports-related areas including FIFA, the Asian Football Confederation, various football associations, and the Torino Winter Olympics' organizing committee.
Jae-Yun Jung jaeyuna@donga.com