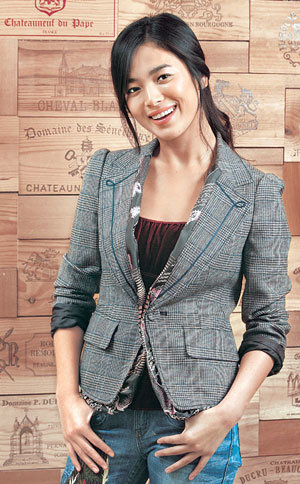 Song Hye-gyo Enters the Silver Screen At Last-
Song Hye-gyo enjoys the height of her celebrity status through TV dramas such as "All in," "Sunshine," and "Full House." Song had been rejecting plenty of proposals by movie producers until she finally chose "High Sea Warning (director: Jeon Yoon-su)" as her first project in film. It's her first motion picture after 10 years of career in TV. The movie is a remake of the Japanese film "Shouting love in the middle of the world (Sekai no chushin de, ai wo sakebu)." It is a romantic tale of teenagers' first love and their heartfelt breakup taking place on the seaside. Song gave an interview on December 6.
"High Sea Warning" is to open on December 22.
-You have luscious lips.
"My mom hated how my lips looked when I was a kid. She thought my lips looked like they belonged to 'Kunta Kinte.' She would make me go like this (pulls her lips in) during photo shoots, otherwise I looked cheap (laughs). Then I started doing a lot of makeup modeling, and they later told me the lipsticks I wore in my shows sold a lot.
People told me that my lips are pretty, and I started to believe them, and my mom doesn't say a word about my lips anymore."
-What made you decide to do a movie now, 10 years after your debut?
"I've gotten some good response from 'An autumn's tale' and received many screenplays. But I wasn't old enough to know what love felt like. I didn't want to mimic being in love when I didn't know what it's like. Now is the time."
-Did it have something to do with the relationship and the separation (with actor Lee Byung-heon) you've experienced recently?
"I learned what it's like to be in love and the pain it involved through the experience of a very big love. As painful and sad that experience was, I am now thankful that I had experienced it. Not many actors at my age get to have a memory of such feeling. So as an actor, it a good thing, but on a personal level, it hurts."
-How difficult is it to act for a movie compared to TV shows?
"My facial features are not so subtle. A little facial movement appears as though I am overreacting. I had to restrain my facial expressions and gestures."
-The director said you had "the look of first love."
"I don't know. Women like me more than men do. Most my fans are women."
-Because you are not coy.
"I am coy when I need to be, but usually I'm down to earth. Cha Tae-hyun asked me to become his sidekick (laugh).
-Are you evil at all?
"People tell me I should try a psychotic role. It could be surprisingly well-suiting. Like 'Sympathy for Lady Vengeance.' I am not a calculating type, but nowadays I find myself always calculating my takes of things. I wasn't like that a few years ago. I am worried that I might be going bad.
Actress Would Rather be Mysterious Than Cute-
-Are you cute or pretty; stuck-up or sexy?
"People still think I'm cute. But I wish to hear people say that I am mysterious. 'She has a mysterious side,' this kind of feeling."
-A photographer once said, "She is not tall but exquisitely proportioned."
"That means I'm short but have rather long legs (laughs)."
-You've been coupled up with the top male stars in your shows.
"Song Seung-heon is a warm-hearted actor. Won Bin is shy, and I didn't get to know him too well, but he's a very nice guy. I like Won Bin in 'An autumn's tale.' He only knows one woman and gives everything to that woman. Ryu Seung-beom is a talented actor, but he has too many colors, so it's hard to pinpoint his personality (laughs). Jung Ji-hun (singer Rain) is a hard worker. Lee Byung-heon is basically great in acting... a perfect actor?
-You will partner up with Cha Tae-hyun in the movie; who has more to lose?
"(laughs) Tae-hyun and I are alike in the way of letting our acting partners shine as we ourselves thrive."
-Do you kiss each other in the movie?
"Something in between a kiss and a peck on the lips (laughs)."
I was feeling my own "High Sea Warning" when it was time to end the interview.
Seung-Jae Lee sjda@donga.com