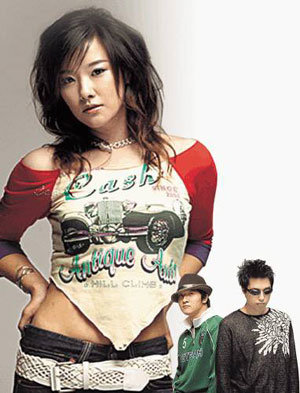 Twenty-eight-year-old officer worker Kim Hyung-woo has recently been falling for Shibuya-kei music. Until a year ago, Kim usually listened to African-American music, but after hanging out with friends at Club H, Cheongdam-dong, Seoul, he became accustomed to Shibuya-kei. "Not long ago, clubs played hip-hop music, but recently, whenever Shibuya-kei music is played, clubbers cheer and start to shake their bodies. Nowadays, one can easily listen to it not only clubs, but also in cafes and restaurants," said Kim.
Songwriter Kim Hyung-seok, 39 years-old, wrote ballad songs such as Sung Shi-gyung's "The road coming to me," and Shin Seung-hoon's "I believe," and has recently formed a project band called "Portable Groove 09." He renounced the usually soft ballads and tried the Shibuya-kei genre, saying, "I wanted to have a good time with fun music."
New Youth Culture "Shibuya-kei" Popular in Gangnam Area Clubs and Cafes—
Shibuya-kei is blowing up across Korean pop. Shibuya music has spread its roots to the public starting with the debut of the three-member project band "Clazziquai." Afterwards, Shibuya-kei groups such as "Humming Urban Stereo" and "Casker" appeared. Hip-hop trio "Epik High" is number one on the Korean pop charts with the song "Fly," a mixture of hip-hop and Shibuya-kei. Their follow up song "Paris" is another Shibuya-kei style song composed by former hip-hop duo "Deux" member Lee Hyun-do.
Shibuya-kei music is also rapidly spreading in clubs or cafes mainly in Gangnam areas such as Apgujeong-dong and Cheongdam-dong. Kim Kyung-sook, who works at Sang-A Record in Sinsa-dong, Gangnam-gu, commented, "The number of people looking for Shibuya music increased after the year 2000, and often they are women in their mid to late 20s who have heard the music at clubs and come looking for the albums."
Japanese Shibuya-kei musicians are also gaining large popularity in Korea. In the case of the male duo "m-flo," which started as a hip-hop group but recently performs Shibuya-kei style music, tickets to their December 17 concert in Korea were sold out in two to three weeks. "We did not expect m-flo to be this popular. We still get calls asking if there are leftover tickets," said SM Entertainment, which planned the concert.
Shibuya-kei music is also popular in commercials. Songs of Japan's "Fantastic Plastic Machine" have been inserted in eight commercials for the past year, ranging from cellular phones to cosmetics and Digital Media Broadcasting.
Attracted to the Elastic-Ball-Like Music, Fashion Follows Shibuya Style, Too—
Some features of Shibuya-kei music are the luxury of a well-made product, elasticity, and much refinement, unlike rough rock and hip-hop, as well as a sophisticated melody. In particular, those looking for Shibuya-kei clubs usually follow Shibuya-style fashion, too. Usually they dress semi-casually, comb back their hair neatly with hair wax or gel, and prefer casual wear that allows light dancing, differing at one glance from hip-hop maniacs.
Clazziquai's Kim Sung-hoon explained, "The characteristic of Shibuya music is that the bouncing compilation, such as splitting beats or putting sound effects, gives a new feel." Composer Kim Hyung-seok said, "The conventional hip-hop or ballad usually has repetitions after four bars, so one can predict the next tune, but in case of Shibuya-kei, it has many unpredictable parts. Such unpredictability attracts youth."
However, some point out that Shibuya music is not sufficient to draw out universal feelings. Music critic Lim Jin-mo said, "Shibuya-kei music is for enthusiasts and makes them feel as if they 'own' the music. However, it is still not capable of drawing out the emotions of the public."
bsism@donga.com