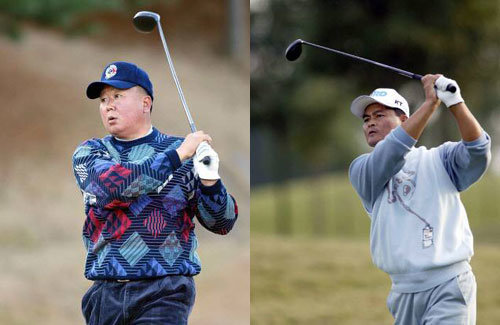 Baseball and golf champs meet in a purposeful event.
Sun Dong-yeol, manager of the Korean Baseball Series champion Samsung, and KPGA's grand prize winner Choi Kwang-soo (45, Popossi) will attend the charity golf clinic for the needy together.
The two will hold a free golf clinic and autograph signing at the Winners Golf Club in Anyang City, Gyeonggi Province. The collected donations from this event will be used to buy 200 sacks of rice for the needy.
Sun is originally from Gwangju, and Choi is from Gurye. Coming from Southern Jeolla Province, the two men have been close for almost 10 years.
Choi is such an avid baseball fan that when Baek In-cheon was the manager of the MBC team, he would join the players in their weight training sessions.
Sun is not a golf novice either. His best score is 66 strokes at the eastern course of Lakeside Country Club in July 2000. When Sun plays with pros such as Choi Kwang-soo, Kim Jong-deok, and Choi Sang-ho, Sun is allowed only a 2-handicap.
Making things more interesting is the fact that their sons are also in golf. Sun will have a face-off with his son Min-wu (15) for the longest drive at the PR event of Nike's SQ Plus Driver on December 13 at Incheon's Sky 72 Driving Range.
Jong-Seok Kim kjs0123@donga.com