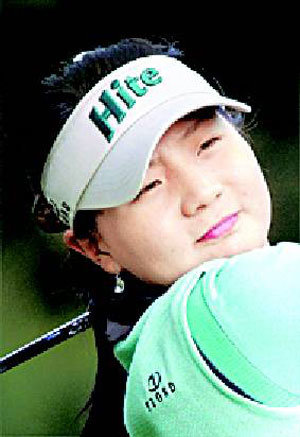 "Rising star" Kim Na-ri (20, Hite, photo) in "the field of dreams" that is the LPGA tour. On December 5, the last five rounds of the LPGA qualifying school have ended in the LPGA International Golf Course (Par 72) in Daytona Beach, Florida.
Kim shot a 2-under 358 and rose to a shared ninth place, winning the full seed for the 2006 LPGA tour that is given to the top 24 players.
Kim made her professional debut in 2003. After joining KLPGA tour and fulfilling her 2-year mandatory tour, she passed the first test of the U.S. tour with honors.
Kim will celebrate her 20th birthday on December 10. "It hasn't hit home for me yet. It was the longest five rounds." Kim said. "I want to win next year. I must make more precise shots and putts." Switching from swimming to golf in the fourth grade, Kim started to develop in her middle and high school years. She is pretty in her lean and tall (168cm) figure, and her hobby is Latin dancing.
Kim's biggest weapon is her drive that goes as far as 270 yards. Kim became the biggest prize winner in KLPGA Division 2 in 2003, made five consecutive top 10 finishes this season, and was 13th place in prize winnings.
Others to regain the full seed were Son Se-hee (20) and Jun Seol-an (Hi Mart), who made their debut in this year's LPGA tour but lost their tickets due to slumps.
This marks the total number of 27 LPGA golfers from Korea who hold tickets to compete in next year's LPGA tour. Kim Na-ri, Son Se-hee, Lee Seon-hwa, and Bae Gyeong-eun (all CJ), and Lee Ji-young (Hi Mart), all of the same age, will be competing against each other.
Song Na-ri (Hi Mart), Jo Ah-ram, Kim Ha-na, and Chae Ha-na (Korea Univ.) fell out of the top 24, earning conditional entries.
Japan's idol star, "Ai-chan" Miyazato Ai (20) shot a total of 17-under 343 and finished first, beating the runner-up by 12 strokes.
Jong-Seok Kim kjs0123@donga.com