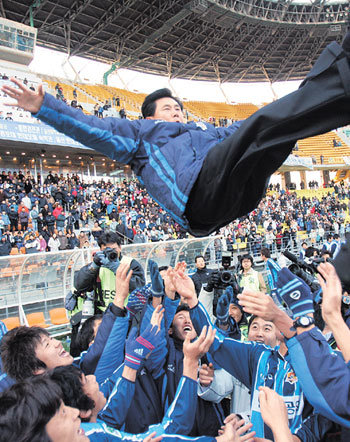 Dressed in blue, Incheon supporters cheered for their team at the top of their lungs. Shouting "Go Incheon" alongside them in full team colors was the owner of the team and mayor of Incheon, Ahn Sang-su.
Badly defeated in the first round, 1-5, there seemed to be almost no chance for Incheon to make up the four game points and come back. But the team's supporters got on 10 separate buses provided by the city of Incheon and its borough offices. They traveled through a snowstorm and blistering cold to root for their team in Ulsan.
Inchon's players seemed energized by this heated support. Agic and Ladoncic menaced the opponent's goal in relentless pursuit to the end.
Even though they haven't won the cup, Incheon showed their greatness this season. Achieving the position of second best in the league just two years after the founding of the team is amazing. Certainly, no one expected that Incheon would be this good.
Incheon does not have a single star player on its roster, and it does not have a large budget, unlike the well-off corporate teams. Lacking even their own training field, they travel by bus to Gyonggi and Gangwon's outskirts in search of grassy training fields. The hardships they have had to face made their finish even more memorable.
Jae-Yun Jung jaeyuna@donga.com