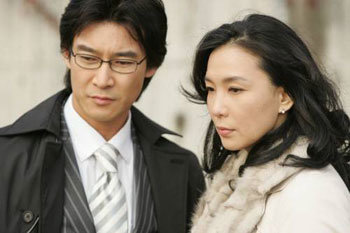 When a new drama series is about infidelity, viewers complain and say that they are sick of the subject. Yet they stay glued to the screen. Viewers criticize dramas about infidelity but they still enjoy watching them. And the more infidelity a show has, the higher its TV ratings are.
SBS will air a new Friday drama, "The Other Woman" (8:55 p.m.), following the end of "Diamond Tears." In order to differentiate this series from the others, it will show more risky illicit affairs.
The show's concept is "double infidelity." One woman ends up hurt from her husband's affair, but then finds herself committing adultery. The storyline that one person hurt from infidelity falls into another adulterous relationship is similar to the movie "April Snow," starring Bae Yong-jun and Sohn Ye-jin. The story in the beginning that one woman looks back into her own life after her marriage is in shambles after her husband's adultery is similar to "Rose Life." The new SBS drama is written by So Hyun-kyung and produced by Lee Hyun-jik.
Jee-su (Shim Hye-jin) is a devoted housewife of 10 years. One day, her husband, Jae-min (Jang Dong-jik) makes a shocking announcement. He tells her that he has fallen in love with a girl, Se-jeong (Oh Yun-ah), whom he has been seeing for only two months, and demands a divorce from his wife, whom he has been with for 13 years. Jee-su tries her best to change her husband's mind but he does everything he can to get a divorce.
After the divorce, Jae-min asks Se-jeong to marry him, but she refuses. Meanwhile, Jee-su opens a shop and lives on her own when she meets a cable TV producer, Do-yeon (Jang Seong-hwan) and falls in love. Ironically, Do-yoen's wife is Se-jeong, the woman Jee-su's husband fell in love with. Jee-su, who was a victim to her husband's infidelity, now becomes the afflicter, and the four people get entangled in complicated love relationships.
The producers say that this series will provide an opportunity for middle-aged people to look back on their lives after marriage. However, unlike "Rose Life," which concludes with repentance and a recovered marriage, "The Other Woman" provokes the viewers with more complicated affairs. So far, recent dramas have had success with adulterous content. Will it succeed again?
zozo@donga.com