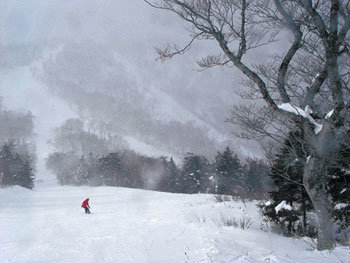 The North of Honshu, Japan, is the equivalent of Hamgyong Province and Pyongan Province of the Korean Peninsula. The mountains are rugged, there is plenty of snow, and the winter cold is bitter. There are three prefectures in the area: Aomori Prefecture located in the northernmost part, Akita Prefecture by the East Sea, and Iwate Prefecture facing the Pacific Ocean. They are the so called "Three Prefectures of North Dohoku."
Korean Airlines has regular flights to Aomori and Akita, while Iwate is two hours away from Sendai, Miyagi Prefecture, where Asiana Airlines flies. This area that has a combination of mountains, hot springs, and sea, becomes more suitable in winter for tourism. Lots of snow, great mountains, and cozy hot springs make it the perfect spot for a ski trip.
Aomori, the Region of Apples and Winter Asian Games—
Aomori's apples are famous so as to be known to Koreans too. Their representative tourist spot is Komaki Hot Springs. It is located by the Towada Crater Lake, whose circumference is 44 km, and has 220,000 pyeong of forest. It also possesses the 400-year-old Yachi Hot Springs, resort hotels, and traditional mixed baths. In addition, excursion boats operate even in mid winter in the Towada Lake, and the shores of the lake offer a snow lamplight festival, where the snow covered lakeside is covered with lamps.
There are a total of six skiing resorts in the region that are close, within one hour of the city. In size, the Owani Hot Spring Skiing Resort, located in the Ajara Highlands, is the largest. It is equipped with various slopes and natural snow slopes that can satisfy beginners, children, and the most adventurous skiers. Iwaki Mountain's Ajigasa Skiing Resort is also a great place to visit. When one reaches its summit of 921m in a six-person lift, the East Sea and Tsgaru Plain can be seen all at once. There is one gondola, and two express chair lifts.
Although small, with one lift and one cable-car, and only four slopes, Hakoda Ski Resort is special. One can ski until early May, and spectacular snow-covered frozen trees and a natural mogul ski course mesmerize those visiting. The Hakoda mountain range behind the resort is also famous for its mountain ski tours. One can enjoy 1.7 km to 10 km of snow tracking and downhill in 10 routes by following a guide starting in March.
Iwate, the Hometown of Morioka Cold Noodles and Powder Snow—
After having Yakiniku, or Japanese grilled beef, the Japanese also finish their meal with cold noodles, or Morioka cold noodles. Those cold noodles are Korean style, just as Yakiniku is. If there is a difference, instead of using buckwheat for the noodles they use starch, and the noodles are served in kimchi broth. That is why these Japanese cold noodles are called Morioka (the current capital of Iwate Prefecture) cold noodles. What is the reason for this? That is because of the Koreans who lived there. Homesick Koreans, made their hometown, which in this case was Hamgyong Province style, cold noodles, and they became a hit and a success. The original Yakiniku restaurant that started all this, Shokudoyen, located in downtown Morioka, is still run by Korean descendants.
Winter is the right time to enjoy Iwate. Experiencing snow at the Atpi Highland Ski Resort is part of the fun. This resort is spread across two mountains, Maemori and Nishimori right next to the Hachimandai National Park, and is so huge that it has a large farm and a golf course.
The cone shaped Mt. Maemori summit at 1,305 m, hosts 21 slopes that spread in all directions, yet are straight as landing strips. The longest slope is 5.5 km long, with powder snow that is so dry that it won't lump, even by handling it. Parts of Mt. Nishimori (1,328 m) and Mt. Maemori have powder snow slopes that have no boundaries. Deep snow skiing, in a snow field waist-deep is also part of the fun that the Atpi Highland can provide.
It also boasts of a "Ski-in Ski-out" Resort, where one can take off one's skis in the hotel lobby, and night ski that extends to 8:00 p.m. every day. In most Japanese ski resorts, one can't ski right after arriving there, but at the Atpi Highland one can ski for about three hours. Remember that package tours are about ten thousand won more expensive, but it is worth more than that.
The facilities of the resort are also top class out of Japanese resorts. All guest quarters have a hot spring, and the restaurant food is also good. There are six restaurants in the hotel, including a Yakiniku restaurant that offers Morioka cold noodles. Ski package tourists can enjoy hot springs and eating in the restaurants with coupons, and ski afterwards. Out of the 500 or so ski resorts in Japan, it is almost the best in terms of snow quality, facilities, and management.
Akita, the Treasured Hot Springs—
Except for the East Sea in the west, all three sides of Akita Prefecture are blocked by mountains, and 70 percent of the land is forest. However, the center of the valley is very fertile. The high quality rice produced there makes Akita the granary of Japan, and the sake made with Akita rice, makes Akita also the region of sake.
Such benevolence from nature does not stop there. The hot springs in the mountains are a gift from nature. The hot spring villages in the eastern slopes of the mountains are best enjoyed when visited in snow-covered winter. They are small scale, and are difficult to reach, hence not famous in Korea, but in Japan they are famous and are called the treasured hot springs. The Tajawa Lake is a crater with a 20 km circumference with a depth of 423 m, the deepest lake in Japan. There are hot spring villages and ski resorts in the lake side. Tajawako and Tajawakoatslo Resorts are a great place to ski downhill, with a direct view of the lake. They are located 30 to 40 minutes away by bus, from the Akita Tajawako Shikansen Bullet Train Station.
Seung-Ha Cho summer@donga.com