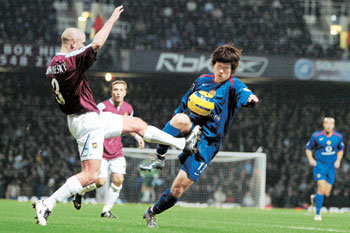 Park Ji-sung, the new engine of Manchester United, led his team to a victory on Monday.
Park, in the starting lineup for Manchester's match against West Ham United at London's Upton Park, assisted on a goal by Wayne Rooney that equalized the game two minutes into the second half.
Manchester won the match, 2-1 after Rooney's tying goal and defender John O'shea scored on a game-winning header.
Manchester United has moved into second place in the British Premier League standings with 8 wins, 3 ties, and 2 losses (27 points), more than rival Arsenal's 26 points. In first place is Chelsea "the wealthy," with 37 points.
Manchester allowed the first goal one minute after game started by letting West Ham's Matthew Etherington cut through on the left side and pass the ball to Marlon Harewood, whose lightning shot gave West Ham a 1-0 lead.
Park Ji-sung led Manchester's counterattack. Ten minutes into the game, he sent an intuitive pass to Ruud Van Nistelrooy. At 11 minutes, he headed a pass to Paul Scholes, leading the team's piercing offensive effort.
Two minutes into the second half, Park turned his body around, ditching a defender. He then kicked the ball into the closing gap between two oncoming defenders, passing it straight to Rooney. Rooney took the ball and dodged a defender; then kicked the ball hard into the net.
Manchester rallied after the tying goal. Eleven minutes into the second half, O'shea delivered the game-reversing header after the ball was kicked in from the corner by Rooney.
Park Ji-sung scored his third assist of this season on Monday's game. After his 13th appearance in the British Premier games, Park holds 12th place in the league's assist ranking. The Internet edition of Britain's sports channel Sky Sports chose Park Ji-sung's pass in Monday's game as its "Pass of The Week." Sky Sports gave Park 8 points, which is the second highest score next to Rooney's 9.
Won-Hong Lee bluesky@donga.com