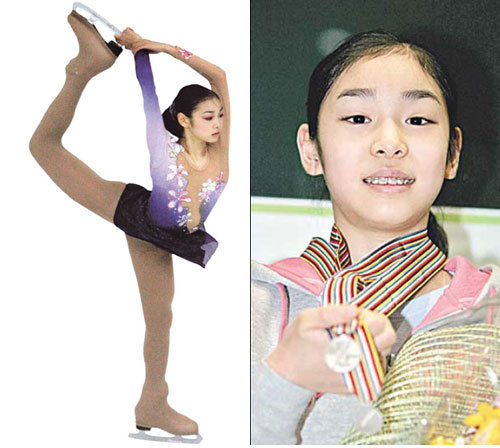 The website of the International Skating Union (ISU) was filled with words such as "excellent"; "big advance"; and "elegant style" to describe and praise the amazing performance of Kim Yu-na (15, Dojang Middle School). No one was able to match Kim at the junior level.
Kim won the ISU Figure Skating Junior Grand Prix Ladies Free Program, held in Cez Arena, Ostrava, the Czech Republic, yesterday with a score of 116.61, beating contender Japanese Aki Sawada, who received 94.53, by a wide margin.
Having received 57.51 points the day before at the short program, and holding the lead, her final overall score was 174.12, and became the winner, beating Aki Sawada with a 145.78, China's Binshu Xu with a 142.83, and American Katy Taylor with a 139.26. The ISU Grand Prix is the place, where the eight most outstanding skaters of the previous eight championships participate, and it is also the first time a Korean won the final Grand Prix.
Kim showed signs that she would win when she won the silver medal last year, and placed first in the two championships she attended.
In the first day's short program, Kim overwhelmed others with a combination of a triple lutz (skating backwards and spinning three times with out steps), triple flip (three spins in step), and double toeloop (stepping forward with the right foot and spinning twice on the left foot).
In the free program she performed to the strong rhythm of "El Tango De Roxanne" from the movie "Moulin Rouge," and her artistic score was almost six points higher than others. Considering that Kim's final score was 137.75 last year, she increased her score almost by 40 points in just one year. Her current height is 161cm, 5cm taller than last year.
It is reported that two months before this tournament, Kim skated on new skates that did not fit her and suffered from severe back and knee pain. Hence, she ordered and wore new skates just two weeks before the tournament, which, in the end, did not affect her first place performance.
Her mother Park Mee-hee said, "I called Yu-na right after the performance, but she was complaining that the judges were being to stingy with their scoring. I was worried since she wasn't feeling that good, but I am proud that she won."
Korea Skating Union Vice President Shin Kun-zo forecasted, "I think she will also win the World Junior Figure Skating Championships to be held March 2006 in Ljubljana, Slovenia. In addition, after she becomes older than 15 in July 2006, she will challenge on the senior stage, and I think she will reap good results there too."
Sung-Kyu Kim kimsk@donga.com