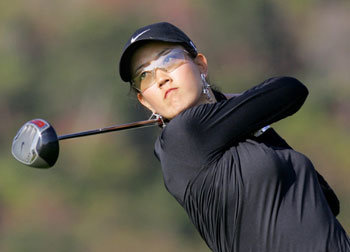 Billionaire teen professional golfer Michelle Wie will draw a sizable crowd at the Casio Open to be held at Kochi Kuroshio Country Club (par 72) in Kochi-ken, Japan.
Here are some interesting points to watch out for:
Reclaiming honor-
Last month, Wie experienced a bitter disappointment when she was disqualified in the Samsung World Championship, her first tournament after turning pro. Wie voiced her strong determination to win the Casio Open after a practice round with Kim Jong-deok (Nano Soul) and Yang Yong-eun (Kasco), where they gave her some putting advice.
Michelle on stardom-
The prefecture of Kochi-ken anticipates that hosting this tournament will bring in approximately 2 billion yen (approximately 18 billion won) in publicity and tourism revenue. There are no more vacant rooms in hotels near the country club. A total of 175 journalists have gathered from 78 different news media to cover the event. Gallery tickets, costing 10,000 yen each, are selling like hotcakes. A total of 35,000 spectators are expected to attend.
Word star-
Wie likes to be well-liked and approachable. After arriving in Japan she greeted the press with a few phrases of Japanese she learned in school, and said she loved sushi. Since the tourney is paying her close to $2 million to play, Wie is right to be extra cordial and charming.
The opponents-
Tejima Daichi (37) and Yokota Shinichi (33), both Japanese veteran golfers, will tee off against Wie at 8:45 AM on November 24.
Wie is expected to put some pressure on the two players with her 183 centimeter stature, as Tejima is 172 centimeters tall and Yokota 167 centimeters.
Tejima scored a total of three victories since his debut as a pro, and has finished second three times this year alone. After turning pro in 1994, Yokota scored only one victory, but was ranked in top 10 five times this year. He had faced female players before in Casio Open 2003, where he played against Sophie Gustafson of Sweden. "If I get beaten (by Michelle), I will be pretty upset.", said Yokata.
Jong-Seok Kim kjs0123@donga.com