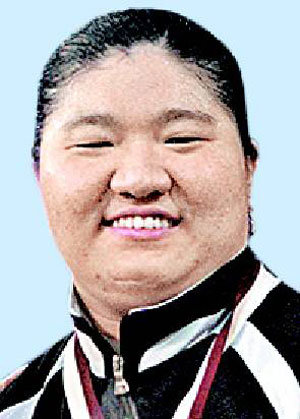 At the 17th Women's Centennial World Weightlifting Championship in Doha, Qatar on November 15, Jang Mi-ran (22, Wonju City, photo) and China's Mu Shuangshuang were pitted against each other in the heavyweight division (75kg and up).
For her third try in the clean and jerk, Mu requested 174kg of weight; Jang Mi-ran requested 172kg in her second try. At the moment, Mu (130kg) was out-lifting Jang (128kg) by 2kg.
If Mu had succeeded in her attempt, Jang would have had to lift 176kg in her third try in order to tie the score. Jang Mi-ran's best record in the clean and jerk so far was 172.5kg in the Athens Olympics.
Mu let out a powerful shout and her 174kg barbell lifted up into the air. Her shaking shoulder and wrist lost balance, and she briefly leaned to one side. Mu quickly regained her balance, executed a perfect stop motion, and put down the barbell. It was a tricky situation for judges, who could have easily been divided in their calls.
But all three judges unequivocally declared foul. All 10 Chinese athletes ran over to the five jurors and protested. The jury's decision did not favor Mu: Three voted for a foul and two did not, resulting in Mu's disqualification in her third try.
Because Jang and Mu both recorded the same total of 300kg, Jang's lighter body weight (115.12kg) gave her the win over Mu Shuangshuang (131.77kg).
Jang Mi-ran was in a similar situation in the Athens Olympics, where she lost her chance at the gold medal after a decision from judges.
At the time, Jang Mi-ran was competing against Tang Gonghong of China. Judges declared that Tang cleared 182.5kg in the clean and jerk, even when her shoulder was twisted in an almost 90 degree angle. That decision left Jang in the second place.
How did this reversal of fate come about within just a year?
People from Korean Weightlifting Federation (KWF) credited themselves by saying "Our diplomatic efforts since Athens Olympics in international sports scene has paid off"
Yeo Mu-nam, the president of KWF said, "We ask cooperation from people in the weightlifting world so that our athletes do not suffer bad judgments despite their good performances. China is a weightlifting powerhouse and the host of 2008 Beijing Olympics, but there will be no unfair mistakes in judgment there like there were in Athens," said Yeo.
uni@donga.com