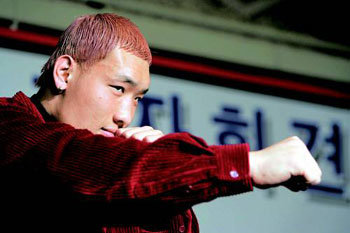 "Techno Goliath" Choi Hong-man (25, 218cm) will enter the final round of eight in the K-1 World Grand Prix 2005 Tokyo fighting event on November 19.
All titles, from final 8 to the champion, will be decided on the same day. Choi Hong-man will face the two-time defending tournament champion, Remy "The Flying Dutchman" Bonjasky (29, 193cm, Holland).
Originally trained in muai thai, Bonjasky is best known for his footwork: a powerful high kick that often lands on an opponent's face, and a springy, flying knee kick.
But his kicks are not likely to be effective or accurate when used against Choi Hong-man, who is 25cm taller. Jung Ui-jin, a K-1 commentator, predicts that Bonjasky will exploit Choi's lack of speed and try to hit and run, aiming for a win by decision. Bonjasky could also try demolishing Choi from underneath by ceaselessly attacking Choi's lower body, making Choi stoop forward and making his face vulnerable to high kicks.
Choi Hong-man's strategy will likely be about counter strikes, as he is relatively slower.
Bojasky is relatively frail against continued heavy blows. A timely knee kick from Choi could deliver a critical hit.
Choi's chance at winning depends on effectively keeping Bonjasky in a corner and not allowing too many kicks. Choi has been focusing his training on boxing style blows in order to complement his kicks.
If Choi Hong-man advances to the final four, he will face Ray Sefo (34, 180cm, New Zealand) or Semmy Shilt (32, 211cm, Holland). Shilt has a physique that equals Choi's, and will be a tough opponent to defeat. Other relatively less imposing contenders are: Le Banner (32, 190cm, France), Peter Aerts (35, 192cm, Holland), Musashi (33, 185cm, Japan), and Ruslan Karaev (22, 188cm, Russia).
Won-Hong Lee bluesky@donga.com