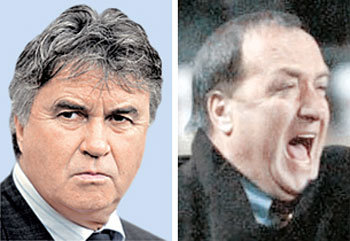 Is Coach Dick Advocaat the next Gus Hiddink? The resemblances are there.
Avocaat, who is 58 years of age and manages the Korean national team, and Hiddink, 59, the Australian team's manager, are both charismatic, precise in their tactics, have laid-back attitudes, and are humorous. They do not look alike, but their coaching and lifestyles certainly are similar.
Two months after stepping in as the manager of the fumbling national team, Advocaat led the team to two victories and one draw in games played against Iran, Sweden, and Serbia-Montenegro. Taking control over a team of demoralized players and equipping them with surgical strategies, he helped the national team regain some self-respect.
Like Hiddink, who led the national team in 2002 into the World Cup final four, Advocaat likes to walk around in jeans and drink cappuccino incessantly during meetings.
Hiddink, who took over the Australian national team in July, is adding another chapter to his legend as well. Preparing for the match against Uruguay in the South America-Oceania playoff, he ordered intensive penalty kick practices and equipped his goalkeeper with an analysis of the opposing team's kickers. His careful strategy has led Australia to the World Cup main round for the first time in 32 years. Australia lost its away game against Uruguay, 0-1, and won on their home turf, 0-1. Australia finally got the main round ticket after going into extended time and finally outscoring their opponent in a penalty kick contest.
Jong-Koo Yang yjongk@donga.com