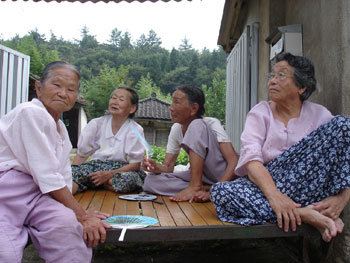 The residents of Yedong town in Goheung, South Jeolla Province, are all senior citizens. Of the 37 townspeople, 35 people are over 65. The average age is 76. The youngest man is 65, the youngest woman 59. All the young have moved to cities.
MBC special program: "Only the Elderly live Here" (November 20, 27 11:25 p.m.) is a documentary that records the lives and activities of the town from last September to this October. The four seasons in the little agricultural town are beautiful, but it is difficult for the elderly to live. Many fields are idling as the elderly find it too difficult to farm, and the townspeople often find themselves sick.
In October, Jin Geum-ja, the president of the town housewives' association, looked for helpers to plant garlic. The people who came to help the 70-year-old Jin were 82-year-old Song Sun-ae and three 70-something-year-old ladies. Jin did not want to ask the 82-year old lady, but she had no choice since she couldn't find anyone else to help her.
Jin was grateful to Song for just showing up. It is difficult to find helpers in the town because there are so many sick people. Seven people were injured during the year when the documentary was being filmed. One fell while drying rice plants, and one hurt her back while cleaning beans. When the elderly hurt themselves, the youngest man and head of the town must carry them to the hospital. Kim Tae-in (66) says, "death is inevitable," and Song Dae-sun (83), who is said to have been quite attractive in her youth, grows teary eyed as she says, "I wish I were young again."
There are many difficulties, but also many stories. Kim Jong-hyun (80) always takes good care of his wife, Song Ok-rye (79), although she is often sick. "It will be difficult for me to even eat if she passes away," he said, teary-eyed. Kim Gyeong-geun (71), who has been happily married to Jin for 50 years, confessed to crying on the wedding night. On the night of the wedding, he saw his bride for the first time. He cried for a week because he thought she was ugly. The people in the town of Yedong married their spouses without seeing them beforehand, but none of them have separated. They live physically difficult but very pure lives, and this town symbolizes a community that is rapidly disappearing.
kimjy@donga.com