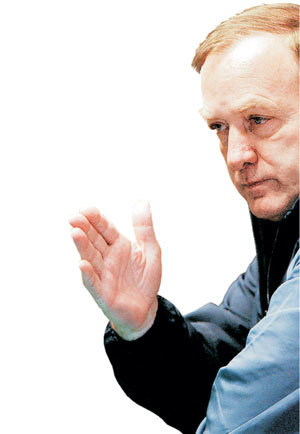 "Find your weaknesses and ways to overcome them through matches with strong opponents. Maximize the team's capacity and try to make the round of 16," said National Team coach Dick Advocaat as he described his team's roadmap for 2006 World Cup in Germany.
"We must prepare for this World Cup under different circumstances than what we had in 2002," he said Tuesday at a press conference in the Hongeun-dong Grand-Hilton Hotel. "Without much time, the best way to maximize our capacity is to play against the strongest opponents as often as possible."
Advocaat announced that the national team is planning to play against regional powers from Europe, South America, and Africa during its overseas training early next year.
The national team is scheduled to start its overseas training in Dubai, then fly to Saudi Arabia, then fly to Hong Kong, and finally to the U.S to end a six-week training period.
When in Hong Kong, the national team will participate in the Four Nations Carlsberg Cup, playing a total of eight A-matches during the overseas training.
"Guss Hiddink was successful in 2002 because his team played against many strong teams just before the World Cup," Advocaat said. "Young players who are acclimated to the domestic league need as much international experience as possible."
Advocaat's associate with the team, Pim Verbeek, says, "Playing against strong opponents while pressed for time is the most effective way to assess our strengths and weaknesses." He named Kim Nam-il and Song Chong-gug as examples of players who made many mistakes during the team's match against the Czech Republic in August 2001. The team lost that game, 0-5, but the two players went on to become top-class players the next year.
Advocaat assesses the capacity of the current national team to exceed the national team in 2001.
Their stamina, endurance, technique are exemplary, and they absorb directions from the coaching staff quickly.
Advocaat's coaching staff comprises coach Verbeek, technical analyst Afshin Gotbi, and Hong Myong-bo, all of whom participated in the national team's 2002 World Cup run. This minimizes the trial-and-error that Hiddink had to go through to grasp Korean soccer, and is all the more reason to be optimistic about the results of the 2006 World Cup.
Jong-Koo Yang yjongk@donga.com