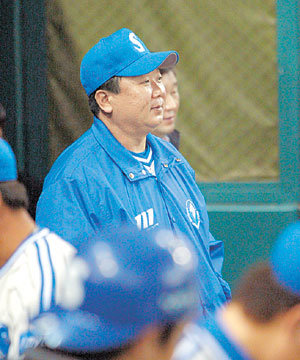 Competing in Konami Cup Asian Series, Sun Dong-ryol, the manager of Samsung meets with the press after every game.
With 50 or so Korean, Japanese, and Taiwanese reporters swarming the press room, Sun looks quite comfortable being his usual self; he's all smiles regardless of the day's outcome.
When he lost to Lotte in the first round, he said, "We had 10 hits, and that's pretty good." After a pair of close victories in the second and third round, he said, "Our victory was a given. I wasn't nervous at all."
Sun's sunny disposition stems from his confidence. He must have sensed that the series was unfolding as he thought it would. The domed ball park wasn't as bad for his squad as was once thought. His bullpen seems to be capable of holding the fort.
His "Keep your lead to win" strategy has proved effective so far. In the seventh inning of Samsung's third round preliminary match against Taiwan Saturday, Sun made what some considered a desperate move to keep his one-run lead by calling Bae Young-soo, the next day's scheduled starting pitcher, to the mound.
Sun's on a roll because he has clear grasp of Samsung's current capacity, and fully analyzed his opponents.
Sun likes to say that even bad losses in big games are good experiences for the players.
Carrying less of an emotional burden must be the reason behind his laid-back attitude.
Nonetheless, the former star pitcher of the Japanese league seems to have a strong desire to leave a big impression among Japanese fans on his return. His answers take a more assertive tone toward questions from Japanese reporters.
At the press table, he sits with two or three of his players that made standout plays on that day. The manager's confidence rubs off on his players, which is true to the old saying that no weak soldiers rally around a great commander.
Jong-Seok Kim kjs0123@donga.com