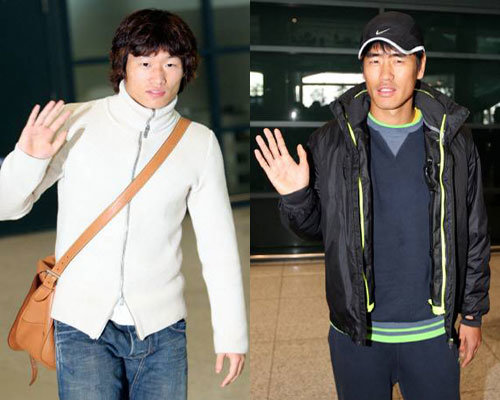 Park Ji-sung (24, Manchester United) and Seol Ki-hyeon (26, Wolverhampton) returned to Korea on November 8 to play in warm-up matches for the Korean national soccer team.
Park, dressed in a beige sweater and blue jeans, seemed cheerful despite his tight schedule. He flew long hours after having played in United's match against Chelsea. Park expressed his firm determination, saying, "Korean players in Europe have few opportunities to play as a national team member. So I will do my best, thinking it is the last chance to play with other national team members."
Park also said, "I felt excited when the new roster of the national team won the game with Iran." He went on to say that "position does not matter. I will show everything I can do in matches."
He looked very confident when he said, "I am gradually adapting myself to Manchester as I thought before. I am so excited to be back here, especially because our team won the latest match (with Chelsea)."
When asked if Roy Keane's virulent remarks on the team had affected its match with Chelsea, Park said, "I am not sure because he did not directly refer to me." But he added, "It seemed to help gather our team together."
To the question of "when do you think you will score a goal," he said plainly, "I could not score a goal for a long time when I was in PSV Eindhoven."
Seol Ki-hyeon, who arrived earlier than Park, joined the national soccer team for the first time in eight months after he played in the match against Saudi Arabia in March. He was called upon to join Advocaat's first team of the national squad last October, but he could not because his wife was expecting a baby back then.
Seol said, "It is important to quickly understand Advocaat's style. I heard from other players in Europe that he was a type of coach who often got angry and wanted players to run a lot on the field." He seemed confident that he would play as a main player, saying, "There is fierce competition among wing forwards all the time. But I have always played and will play as a left wing."
Seol will leave Korea on November 13 without playing in a match with Serbia-Montenegro to be held on November 16.
Jae-Yun Jung jaeyuna@donga.com