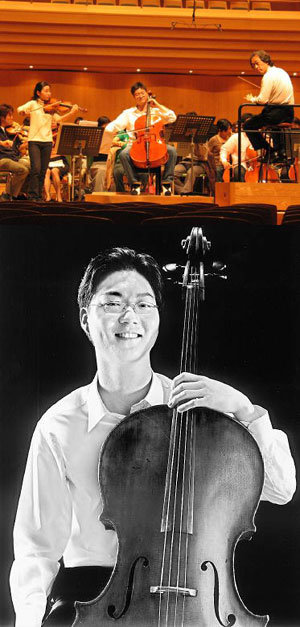 Although the conductor and musicians had left the stage after five curtain calls at the end of a Tokyo Philharmonic concert in Shinjuku on October 31, the audience still filled nearly half the seats, refusing to leave. The unceasing rhythm of their applause eventually brought back maestro Chung Myung-whun, the Tokyo Philharmonic Orchestra`s special artistic advisor, back out of the dressing room where he had been changing his clothes.
The audience rushed up to the stage to shake his hand, showing that, at least in music, the two countries of Korea and Japan are able to achieve total harmony.
Famous musicians from both countries share same stage-
The performance which singularly captured the hearts of the audience that night was an ensemble by Korean cellist Koh Bong-in (age 20) and Japanese violinist Sayaka Shoji (age 22). The two artists performed Brahms's Double Concerto for Violin and Cello with the Tokyo Philharmonic.
Their performance not only proved to the audience each musician's talent as violin and cello soloists, but also demonstrated their diverse range, from chamber music chords to their joint performance ability with the orchestra. The two artists' nimble techniques in the third movement when they took turns playing the same melody drew especially warm applause.
Sayaka is a gifted violinist who at the age of 16 won the Grand Prix award at Italy's Paganini International Violin Competition. She is the youngest-ever recipient of the award. "Our opinions about how to play or interpret the music differed at the beginning, but after private practices, we came together to make harmony," said Sayaka. "Koh's performance was heartwarming and fantastic."
Harvard cellist pursues both music and studies-
Cellist Chung Myung-wha praised Koh highly, saying, "Koreans play sad or passionate music excellently. But Koh Bong-in even has a sense of humor, which most Korean musicians lack."
To her remarks, Koh replied, "That's because I enjoy myself when I play music."
A musical prodigy sponsored by the Kumho Culture Foundation, he had to make a difficult choice between his music and his studies. In the end, he chose to attend Harvard University to study bioengineering, following in the footsteps of his father, Professor Koh Gyu-young of KAIST. Nevertheless, he is continuing his musical studies through a joint degree program between Harvard and the New England Conservatory of Music.
"I have always admired and respected cellist Yo-yo Ma, who also graduated from Harvard. My choice of university was affected to a large extent by him, because I knew from his case that Harvard fully supports and cultivates musicians. In my music, I try to emulate Yo-yo Ma, who performs naturally and is unfettered by technique."
As a present, Koh recently received a replica of the cello that Yo-yo Ma used to play on. He had used a cello lent by the Kumho Culture Foundation for the past eight years, but he returned it last summer.
Koh says he wants to go on to medical school after graduating to research stem cells, but he also spends four to five hours a night practicing the cello.
He also left early from the celebration party after the concert. The reason he gave for his early departure was that he had to read "The History of American Constitution," a textbook for one of his classes.
The Tokyo Philharmonic's performances in Korea will be held on November 7 at the Busan Cultural Center, on November 9 at the Jeju Arts Center, on November 11 at Gwacheon Citizens' Hall, on November 12 at the Sejong Center in Seoul, and on November 13 at the Incheon Multiculture and Arts Center. The performances will include Shostakovich's Symphony No. 5 and Brahms's Double Concerto for Violin and Cello. Tickets: 40,000 won to 120,000 won.
Seung-Hoon Cheon raphy@donga.com