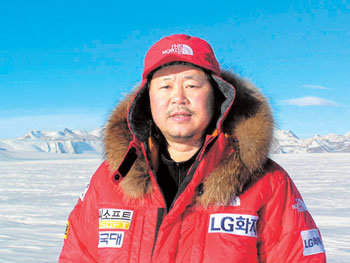 Park Young-seok (42, Goldwin Korea director and an old member of Dongguk University Alpine Club) reached the North Pole on May 1 of this year. By doing so, he achieved the world's first ever alpine grand slam: climbing the 14 Himalayan peaks over 8,000 m, the highest summits of the seven continents, Mt. Everest, and the North and South Poles. It was an unprecedented event of an Asian leaving a footprint in the history of alpinism and expedition long dominated by westerners.
Although he has achieved everything, he wrote, "Now is the time to start" at his grand slam achievement commemoration footprints. He said, "Just look at the world map. There are so many places that I want to go to, and my heart begins to race."
Challenging to Cross the Bering Strait—
Park plans to cross the Bering Strait situated between Siberia and Alaska on foot sometime next February. That is the same route that Mongolians took 50,000 years ago as they crossed from Asia to America, eventually becoming Inuits (Eskimos) and Native Americans. The shortest distance across the strait is 85 km, but he will have to walk about 300 km due to the whirlpool movement of glaciers and sea currents. Only in 1998 did a Russian team succeed in crossing. A Russian expedition agency that dissuaded Kim Young-sun (42, a Moscow resident), who is participating in the forthcoming expedition, by saying, "It is too dangerous," changed its mind when Kim told them that Park was leading the expedition. After hearing this, the agency started to want to sign contracts as soon as possible. That is the status that Park holds in the world of alpinism and expedition.
Paying for Himalayan Expedition by Selling Wedding Gifts—
One of the questions that Park is often asked is "How do you earn a living?" Currently, he is being paid a salary for being the director of Goldwin Korea, an outdoor clothing company, and the restaurant of his wife Hong Gyung-hee (42) in Auckland, New Zealand, is thriving so he has no financial problems. Nevertheless, even if big corporations are sponsoring his expeditions, he tries to save the budget to the extent of being called a scrooge by his members. That is because of his personal philosophy of considering a stomach-full expedition a failure even before it starts.
His first try at the Himalayas was in the spring of 1989 when he climbed the second peak of the Langshisha Ri at 6,427 m. He ran out of money so he sold his watch and climbing gear in Katmandu, Nepal, in order to return home. The winter of the same year, he postponed his planned marriage, left for the Himalayas, climbed to the apex of Langtang Ri (7,205m), and bought a plane ticket home with money for wedding gifts.
The Moment of Releasing the Rope of Tension Means Death—
Park succeeded in 18 of his 31 climbs to the Himalayan peaks and twice out of three attempts at the poles of the Earth. In all, he has failed 14 times. In his first try at climbing Mt Everest in 1991, he fell about 100 m and suffered injuries to his face. When climbing Dhaulagiri (8,167m) in 1995, he fell into a crevasse and would have lost his life had it not been for his backpack that got stuck. Park had plenty of other life-threatening moments throughout his career. However, he says, "Nature is always scary, but most of all, I fear myself the most. The hardest battle is the fight with my arrogance and the temptation to quit."
Chang Jeon jeon@donga.com