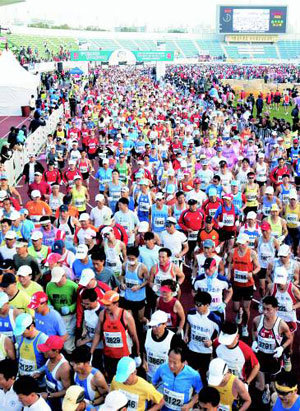 The excitement was at a fever pitch in the former capital of Shilla Dynasty, Gyeongju in northern Gyeongsang Province thanks to yesterday's marathon.
Donga Ilbo 2005 Gyeongju Open Marathon—co-hosted by Gyeongju City and Donga Ilbo—was held in downtown of Gyeongju City, North of Gyeongsang Province, on October 30.
"We ran through the millennium ancient city. We ran through the autumn"-
A total of 10,517 masters marathoners, including 4,665 full-course participants, gave onlookers a marathon feast in downtown Gyeongju City awash with autumn foliage. With 10km, half, and full course events available, participants enjoyed marathon running and autumn while appreciating the historic relics of the Shilla Dynasty, including Cheomseongdae (the historic astronomical observatory).
The marathoners started their race at the Gyeongju civic playground in Hwangseong Park at 8:00 a.m. and ran through the downtown area to minimize the traffic inconvenience to citizens.
The first "Hall of Famer of the Dong-A Marathon Masters" award was taken by Kim Seong-dae (age 26, Wia), who came in first in the full course race. He recorded a time of two hours 31 minutes 54 seconds. Hall of Famer of Dong-A Marathon Masters was a title made by Dong-A Ilbo to expand the number of marathoners nationwide and to improve grass-roots marathon records.
The title is granted to the "sub-three" marathoners who finish a full course race hosted by Dong-A Ilbo in less than three hours
This was the first such race, and master marathoners showed much interest. The number of marathoners who achieved "the dream record" of a sub-three hour time amounted to a total of 188, including 187 males and one female. The hall of famers are given a certificate and a "sub-three qualifying gold badge" on which the Dong-A marathon logo is carved.
The first female hall of fame award was won by Bae Jeong-im (aged 39), who came in first among the women with the record of two hours 59 minutes 26 seconds.
Meanwhile, in the half course race, Kim Hee-beom (aged 38, Wia) and Ha Yoo-suk (aged 46, Busan Marathon Federation) won first place with times of one hour 12 minutes 51 seconds and one hour 27 minutes 45 seconds, respectively.
Baek Jeong-yeol (aged 28, Hankuk Electric Glass Co.) and Lee Min-joo, (aged 35), topped the 10-kilometer course race with records of 32 minutes 29 seconds and 37 minutes 37 seconds in each.