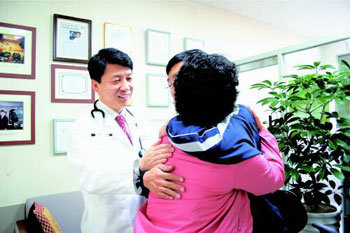 As a 40-year terminal liver cancer patient received treatment at the Alternative Therapy Clinic for Cancer Patients, Gangnam Cha General Hospital, Seoul on October 28, his physician, Professor Lee Byung-wook, asked him, "Now, please laugh."
The patient gave an awkward smile in response, and Lee told him to laugh louder. Lee then told the patient a few jokes, enough to make the patient burst into laughter to the point of tears.
Later, Lee asked him to hug his wife and tell her that he loves her. The patient hugged his wife tightly. Maybe they felt each other's pain. Both the patient and his wife had tears in their eyes.
Three years ago, the patient was diagnosed with stage IV liver cancer. At the time, his doctor that told him that it would be difficult for him to live beyond two to three months. Nevertheless, Mr. A has been living an ordinary life for three years. It is not that the cancer cells in his body have disappeared, however. "He can live a normal life because his immune system is stronger," explained Lee.
Lets take a look at another of Professor Lee's therapies.
A 40-something housewife was told that she wouldn't live past two months because her breast cancer had spread to her liver. Nonetheless, after four months of therapy and treatment, her symptoms have greatly improved and now she can lead a normal life.
A retired teacher in his late 40s suffered from immense abdominal pain and vomiting after stomach cancer surgery. After two months of therapy, he too, is living a normal life.
Lee is renowned for treating cancer with complementary alternative medicine. Professor Lee, however, emphasizes that complementary alternative medicine is not the perfect panacea. In other words, the will of the patient to beat cancer should be strong in order for the therapy to yield results.
Originally, Professor Lee was a surgeon focusing only in surgeries, and he treated over 10,000 patients over a course of 10 years. During this time, he saw many patients that had given up the will to live because the physical pain took a toll on the minds of people. He recognized that modern medicine by itself had its limitations. Hence he thought that he should try any type of therapy if it would make the patients comfortable as well as heal them. That is when he chose complementary alternative medicine.
Let's hear about his philosophy.
First of all, he does not deny modern medicine. It is good to undergo surgery, drugs, and chemotherapy as prescribed. He also suggests the patient not to stop therapy, if he or she is already under treatment from modern medicine.
Second, methods to enhance immunity are used in a combination, because he thinks that cancer is caused when the immune system is weak. In case of Mr. A, he implemented herb medicine by prescribing a substance derived from mistletoe. Laughter therapy is another means to strengthen the immune system. Therapy to improve the immune system is tailored according to the condition of the patient.
Third, use all possible means. Diet and nutrient regimes that control eating, mental therapy to compose one's mind, physical therapy such as yoga and taichi, living therapy where one grows a positive attitude and recovers relations with other people, religious therapy of praying and forgiving, art therapy of drawing and singing, diversional therapy of playing and improving self-healing powers, and devotion therapy where one enriches one's life by helping others are some examples of available therapies.
Fourth, the family also needs treatment, because in Professor Lee's opinion, family members of cancer patients are also semi-cancer patients. Love is the biggest medicine. Professor Lee also tells us to love the cancerous cells. If the patient wants to fight and beat the cancerous cells, the cells will build walls around them, making treatment more difficult. In other words, soothe the cancerous cells and learn to live with them.
Sang-Hoon Kim corekim@donga.com