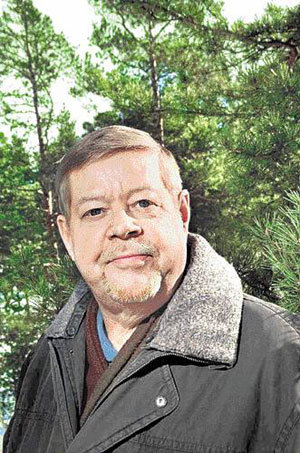 An Enchanting Mass Suicide; By Arto Paasilinna; Translated by Kim In-soon; 345 pages; 9500 won
This novel was published in 1990, and is the first introduction of Finnish author Arto Paasilinna (63) to Korea. It is a book on Finland's stance on suicide. Finland is a prosperous country, but its suicide rates rank between first and second in the world.
Facing his fourth bankruptcy and getting the cold shoulder even from his wife, a laundromat owner meets a military general trying to hang himself on the verge of his own pistol suicide at a resort storeroom. Having been revived from the brink of death, the two men grasp each other's hot hands out of solace. They resolve to make an "event" for those hesitating with suicide, and place want ads in newspapers for pre-suicide committers.
Somehow this is reminiscent of the mass suicides in Guyana, but Paasilinna has tossed in some of his own "grotesque black humor." He starts to build upon this as the general's wife dies and the character finds himself unemployed as well.
"Just a tiny war or rebellion is all I ask for! But the world has been going on peacefully for some years now. What's missing from the youth today is a fervor to fight the existing social system. All the Finnish kids ever do for social participation is scribble dirty words on waiting room walls."
The two lead suicide pact meetings and believe that their mission is sacred, so much so that they begin to regard themselves as Moses and Aaron. In the bible, Moses and Aaron lead the Israeli people who were captured in Egypt to a land of milk and honey, parting the Red Sea. The points are similar; they, too, ditch their bus into the North Sea in an attempt to part the sea, and the rest is all delusional.
Many people contemplating suicide appear in the book, but instead of looking despondent and full of pathos, they almost look vivacious. The concise diction also adds to the effect. So at times, their journey may seem like a series of mere ups and downs.
In the book, a young student suggests that they die in a "glorious suicide" by floating in a hot-air balloon in the Finnish skies and then jumping after a bout of farewell songs. Although it wasn't chosen, it would have overruled the bus trip by far in its drama.
Paasilinna has written some 40 novels translated into 30 languages. He received "Author of the Year" award in Europe, and is considered a distinguished figure in Finnish literature.
Ki-Tae Kwon kkt@donga.com