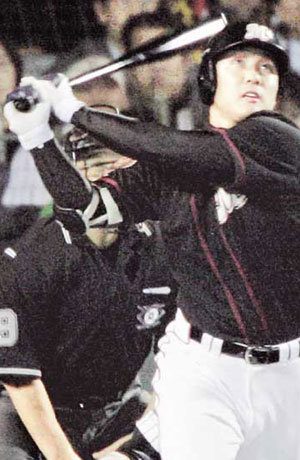 This time, it's a face-off against his former team, the Samsung Lions.
Lee Seung-yeop (29), currently playing for the Lotte Marines in Japan's pro baseball league, came under a barrage of questions from the media regarding the upcoming Konami Cup Asian Series (November 10~13 at Tokyo Dome) after his team cemented its victory in the Japan Series on October 26.
Lee's reply was firm. "I want to win no matter what, even if it's against my former team. I would like to show Korean fans how much I've grown here," he said.
The Lotte Marines, led by manager Bobby Valentine, have been on a fast-paced schedule. After becoming series champions at Koshien Stadium on Wednesday evening, the team returned to their hometown of Chiba the following day. They will have only three days of rest before the players begin training for the Asian Series at Chiba Marine Stadium on October 31.
Lee is full of confidence after being named as one of the outstanding players in the Japan Series, the country's most important baseball championship. His record over four games was an impressive 6 for 11 (.545 BA) at the plate. In the starting lineup for the first, second, and fourth games, Lee hit one home run per game against lefty pitchers Igawa and Egusa in Games 1 and 2, and against righty Sugiyama in Game 4.
The Samsung Lions, with manager Sun Dong-yol at the helm, are equally eager to test themselves against the Lotte Marines. "It will be an exciting match," Sun noted, adding, "They shouldn't underestimate our pitchers."
The sparks are sure to fly when the two teams meet on the field, especially with Samsung's ace Bae Young-su and shutdown closer Oh Seung-hwan filling out the Lions' stellar roster.
uni@donga.com