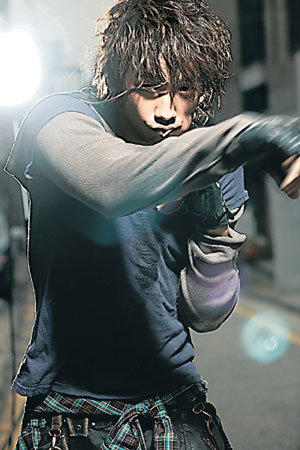 He is a man who has nothing but his own flesh and bone. He is a man to whom women swear to give their lives. He is a combat sports fighter who has never won a single match. He is Gang Bok-gu, the protagonist of the new drama "This Cursed Love" (Korean title: "Ijugilnomui Sarang"), which will debut on KBS2 at 9:55 p.m. on October 31.
But there is another man behind the role: A man who auditioned a dozen times to become a singer, but was turned down each time because of his looks; A man whose dream was to get an award for best new artist and dedicate it to his mother. That man is Rain, the singer.
He is also Jung Ji-hoon, the actor who plays the ill-fated Gang Bok-gu in "This Cursed Love."
The new drama is written by Lee Gyeong-hi, who wrote one of last season's biggest hits, "I'm Sorry, I Love You," and is directed by rising star Kim Gyu-tae. Jung Ji-hoon and Shin Min-ah star as the main love interests.
Man Gang Bok-gu Has Been Hurt by Love—
An innocent woman loves a man then leaves him. Because of her, the man becomes a human vegetable, and the man's brother swears revenge. But the brother ends up falling in love with the woman. It's not an unfamiliar story for audiences of television dramas.
But the protagonist Gang Bok-gu is an unfamiliar character. The strongly-worded title seems to refer not to love but to the character. His pastime is extorting money from students. He is a combat sports fighter, a line of work that's becoming quite popular lately, but he is an arrogant man who loses all his matches on purpose because he doesn't like being singled out as a winner.
In the first episode, a woman stands on the railing of a bridge and cries that she will come down if he tells her that he loves her just once. Gang doesn't think twice before saying, "Go ahead and jump."
Protagonists are usually portrayed as having a good heart even when their actions appear otherwise, but Gang steers clear of this trite convention. When he falls in love with his brother's ex-girlfriend, Cha Eun-seok, he becomes someone he can't accept. That's why Jung Ji-hoon describes his character as "a man who learns his lesson after turning his nose up at love." He says he is "glad to be able to play such a vile person."
Man Jung Ji-hoon Has Become Crazy about Acting—
There was a time when he would wait around the house all day and suddenly ask himself, "What on earth am I doing?" But nowadays, he's so busy that he doesn't have a moment to rest. He is Rain, the singer, and Jung Ji-hoon, the actor. After returning from his Beijing tour on October 22, he is devoting himself to the show. When the show's over, he will hit the road again on another tour.
In preparation for his fighting scenes, he did 2,000 reps a day with a jump rope for two months. He sculpted his physique with chicken in the morning and mackerel in the evening. He got injured during filming countless times. But he still confesses that he finds it more difficult to do the emotional scenes than action sequences. "Singing and dancing can be mastered through practice, but you can't learn emotions," he notes, and explains that he tries to feel the character with his heart rather than understanding them with his head.
Jung Ji-hoon made his acting debut with "Let's Go to School, Sangdu" on KBS2 and began to enter the spotlight in KBS2's "Full House." In this, his third drama, audiences are hoping that he will shed the reputation of being a "singer-actor."
The show's writer, Lee Gyeong-hi, praises him as a "gem of an actor." His female lead, Shin Min-ah, also commented that he "immerses himself to the point where you forget that he's a singer."
When asked what kind of character he wants to play the most in future, he replies, "Gang Bok-gu." That's how deep into his character he has fallen. "Audiences will invest just one hour of their lives and experience a love that rarely comes even once in a lifetime," he says confidently.
kimjy@donga.com