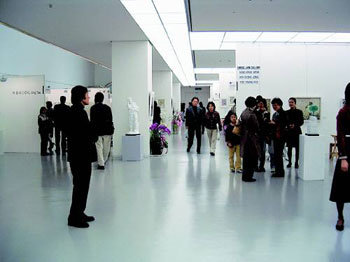 Anyone who wants to possess an artwork should visit the massive art market that will open at the Hangaram Art Museum in Seoul Arts Center, Seocho-dong, Seoul. Pieces belonging to various artists are arranged by price.
Print Art Festival -
The SIPA (Seoul International Print Photo & Edition Works) which will open to visitors until October 30 is a market where you can get relatively cheaper prints of originals.
A yearly event since 1994 and sponsored by the Korean Printed Art Association, this year the event has become an international affair, seeing various participants from 12 countries, including China, Japan, and the U.S. Prices range from 100,000 won to a Chinese work worth 70,000,000 won.
Signatures by the artists on prints or photos are extremely important. The edition number is also something to look out for. The first 10 prints usually hold the greatest value. An "Art Job Lecture" on art-related jobs will also be held on October 25, 28 at 11:30 a.m. 02-532-6889
Gallery Art Festival -
From November 3 to 8, a large gallery art festival with participants from 60 gallery board members and 213 artists will be held.
Besides 60 booths, 46 pieces by 37 domestic artists, selected by sales results, auction rates, and frequency of appraisal requests, will be separately shown in "Best Artist Best Work" on the third floor.
The art pieces are reliable because they are Korean and have been carefully sifted, but it is best to keep a guarantee affidavit that the artist provides in case you buy the piece. 02-733-3706∼8
Mun-Myung Huh angelhuh@donga.com