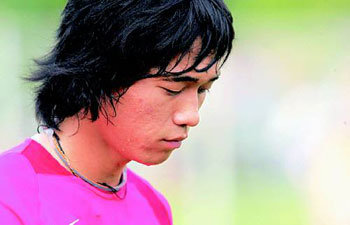 Soccer prodigy Park Chu-young (20, FC Seoul, photo) has fallen into a deep slump.
Ever since his professional soccer debut earlier this year, Park has been all over the field, scoring 15 goals in 26 games (including Cup tournaments). However, after his team's match against the Ulsan Tigers last August 28, he has been quiet for six games in a row. His confident play seems to have disappeared and he can often be seen faltering in front of the goal. His team seems to have fallen into a slump as well, sinking deeper into a no-win mire with two ties and four losses during the same period.
Why Is the Park's Play So Dismal Recently?–
Former Seoul FC coach Cho Kwang-rae said, "There are no countermeasures for when the defense of the opposite team reads the play of Park Chu-young and rushes him. Team play is mostly based on long passes, which is somewhat monotonous and this is holding back Park."
Cho Min-guk, a coach at Korea University, said, "Park's place selections and timing for shooting are all a notch slower. Professional soccer is different from college, since there is harsh scuffling with the players of the opposite team, and he must be active in supporting the defense. These seem to be both a physical and mental burden to Park."
FC Seoul coach Lee Jang-soo said, "Many have high expectations of Park, which seems to stress him. This is why he can't seem to make an easy breakthrough."
Experts all agree that this slump will be a crucial moment for Park to advance one step further. In particular, coach Cho advised, "Park is not yet a 'complete' player, which is why we should show more consideration to him. From now on, we should let Chu-young just focus on his training, and not be bothered by advertisements or other matters unrelated to soccer."
Jong-Koo Yang yjongk@donga.com