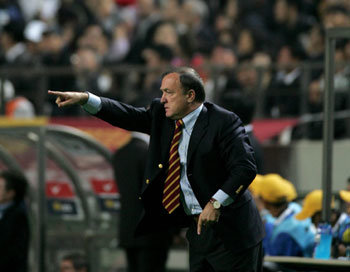 Dick Advocaat's coaching style is beginning to surface. Advocaat puts great importance on scientific analysis, just like Gus Hiddink, the former coach of the Korean national soccer team during the 2002 World Cup did. The difference is that while Hiddink adopted a power program to upgrade the team, Advocaat uses an analysis program to bring innovation to the team.
Here's a brief review on Advocaat's style of soccer from the technical committee of the Korean Football Association (KFA):
A Soccer Style That Allows Zero Errors—
Unlike Hiddink, who had 18 months to train players, Advocaat only has 70 days at most. Knowing this, Advocaat selected a scientific solution based on thorough analysis of players. This is also the reason that Advocaat chose Pim Verbeek, Afshin Ghotbi, and Hong Myung-bo for his coaching staff, who helped the Korean team advance to the semifinals of the 2002 Word Cup. By doing that, it is clear Advocaat intends to minimize error.
Only 10 days after joining the team, Advocaat analyzed the strengths and weakness of both Korean and Iran team and came up with six trouble-shooting solutions. His strategy led the Korean team to a win over Iran, 2-0 on October 12. "Unlike 2001, the players are in good shape and have a better understanding in soccer. I think it is possible to maximize the competence and potential of players for a shorter period of time," Advocaat said confidently.
25 Meters of Total Soccer—
"The distance between the offense, midfielder, and defense must remain less than 25 meters."
This is the key point of the Advocaat's style of "total soccer." Hiddink had the distance limit of 30 meters. The longer the distance is, the more energy players have to spend, because players have to run more. Organized and cooperative play is more successful when the distances players have to travel are shorter.
Ha Jae-hun, a member of the technical committee, said that Advocaat's style of soccer doesn't distinguish offensive players from defensive players. "When the other team's players received the ball, three or four players end up cornering him, and vacant positions are replaced by players nearby. A good example of this was defenseman Kim Jin-kyu's play on October 12," said Ha.
Players Who Don't Run Are Unnecessary—
In a system like this, players who don't run tend to be rooted out. In order to maximize results within a minimum time limit, concerted cooperation among players is the most important thing to obtain, which means players have to run more. "Players who are too busy chasing their fame or celebrity to work hard will be off the team and will rest at home," Advocaat said.
Competition for survival that never stops is also inevitable.
Meantime, the Korean national soccer team will have goodwill matches with Sweden (November 12) and Serbia-Montenegro (November 16) at Seoul World Cup Stadium at Sangam-dong in Seoul.
Jong-Koo Yang yjongk@donga.com