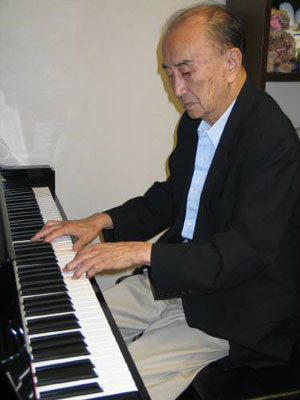 Yun Gi-seon (photo), an 85-year-old master pianist, will perform with the Suwon Philharmonic Orchestra (conductor: Park Eun-seong) in Korea for the first time in 10 years.
He will play Tchaikovsky's Piano Concerto No.1, which he played first time in Korea back in 1946. The concert will be held at the Grand Performance Hall of the Gyeonggi Arts Center in Suwon, Gyeonggi Province at 7:30 p.m. on October 19, and at the Concert Hall of Seoul Arts Center at 8:00 p.m. on October 22.
"Whether they are musicians or golf players, young people today seem anxious to become famous in a short period of time," he said. "To become a good musician, you should be able to fully express the passage of time."
After graduating from former Gyeonggi High school and Tokyo National University of Fine Arts and Music, and before going to the U.S. in 1948, Yun first performed Beethoven's "Emperor" and piano concertos of Liszt, Grieg, and Tchaikovsky in Korea with the Goryo Philharmonic Orchestra conducted by Lim Won-sik.
He is coming back to Korea to perform to keep a promise he made to conductor Park Eun-seong that they would perform together. He has been a friend of the conductor of the Suwon Philharmonic Orchestra for 30 years. After meeting Park in Los Angeles last July, Yun has steadily practiced two to three hours a day to prepare for the concert.
"With my left eye having glaucoma, I'm having a very hard time since I entirely rely on the right eye. I also don't sleep well because I'm suffering from a symptom in which acid in the stomach overflows to my esophagus. I feel like dying before practice. But, once I start the practice, I mysteriously get energy."
Former Seoul National University Professor Kim Won-bok (1908-2002) performed at the age of 94 in May 2001, which set a Korean age record for a live piano performance. When Yun was working as a professor at Hartford University in the U.S., he had a comeback concert in 1968 in Korea for the first time in 20 years at the invitation of Dong-A Ilbo. At that time, critic Park Yong-gu said, "At a time when Korea was liberated and Korea's musical circles were about to take a leap into a youthful period, Yun Gi-seon was the first ever star who expanded the scope of Western music, which was so narrow that only insiders could enjoy, into a social interest."
Yun said, "The happiest time in my life were the seven years from 1970 when I taught in Korea," adding, "I've taught students from various countries, including the U.S., Japan, and the Philippines. But I've never seen students as passionate as those whom I taught in Korea."
For more information, call 1588-7890.
Seung-Hoon Cheon raphy@donga.com