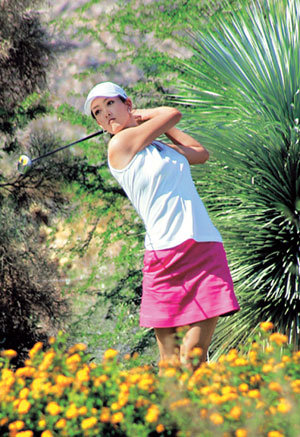 Twenty of the world's top players are playing in the LPGA Samsung World Championship, but one player is stealing all the attention.
When the event opened Thursday morning at California's Bighorn Golf Club, teen golf prodigy Michelle Wie was in the center of the limelight as she made her professional debut. A great number of galleries and reporters are following her to every hall, virtually turning the tournament into "The Michelle Wie Show."
The same thing happened when the 16-year old was playing at a pro-am tournament yesterday as a crowd of fans swarmed around her for her autograph and picture. The organizers, surprised to see such a sight, were convinced that Wie will be a big hit.
Meanwhile, even the best player in women's golf, Annika Sorenstam, is being swallowed up by the shadows cast by Wie. There were no fans, no cameras, and no reporters around her at the pro-am tournament, and she was alone yet again at the practice range at the Bighorn. If Sorenstam wins the Samsung World Championship, it will be her fifth victory and she will set a historic record as the player with the most wins in the same LPGA tournament.
Unfortunately, however, Sorenstam is not getting the attention she deserves. "It doesn`t bother me,`` Sorenstam said." I know what I`ve achieved. I know the records that I have set, and nobody can take those away.``
Sorenstam won last year's Championship while Wie played as amateur and finished in 13th place. Tiger Woods, who is frequently compared with Wie, played his first game as pro at the Greater Milwaukee Open in 1996 and finished 60th. He received $2,544 in prize money, and after playing in five more tournaments, he won a victory.
Will Michelle Wie be able follow in Woods' footsteps by winning her fist trophy in her debut year?
Jong-Seok Kim kjs0123@donga.com