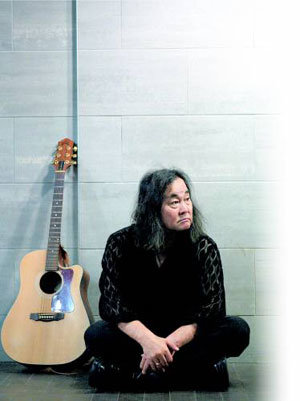 "The room is a bit stuffy. Is if OK?"
As the door opened, the smell of cigarettes diffused out. There were five guitars placed in such a narrow space at a 7-pyong office in Shinchon in Seoul when I visited on October 7. Florescent lights were blinking, and his jeans were scattered about. Hahn Dae-soo's (57) room was very dry. I seemed to have a sore throat because of the lack of fresh air and coughed. Then he said,
"Oh. I will make a 'solitary cup of coffee.' On a rainy morning like this, the coffee that I make alone is just so good."
He brought out a hard-looking box on the table after offering me the coffee. He smiles like a baby although he will be 60 in three years.
"This contains my whole music life. I kept rubbing it overnight because I was so excited with the finished version. I just love the thick feel of it."
Hahn is the "godfather of folk rock." He released his album on October 6 titled, "The Box," which has all the essence of his 37-year-old musical life into 14 CDs. As he opened the box, his mouth opened.
# Scene 1: Rubbing the Box
"My life is a failure, I think. I have not achieved anything, but come to think of it, I kept doing music. So I put everything concerning my music into this box like a zip file."
-The title, "The Box," seems to have a special meaning to it.
"It has the basic meaning in that it contains my music, but it can also used to represent the female sex organ and "coffin" or death in Korean slang. It symbolizes my life which began in a woman's body, came out into the world, made music, and is preparing for death. At the end of the day, what remains is just the music."
The 14 CDs are like a history textbook of his 37-year musical career. They have Hahn's first debut album in 1974, "A Long, Long Way," with songs like "A Happy Country," "Give Me Some Water," and other hits. They also have his 10th album "Hurting," which was released last year, and the songs he sang in the 1970s when he was a member of the rock band "Genghis Khan" that he formed in New York. They even contain his music videos he took for four years in the U.S. and in Korea.
# Scene 2: Are You Confident about Your Music?
"At the end of 1960s, people treated me like an 'alien.' They just loved the songs of Lee Mi-ja and Na Hoon-a and just could not understand a jean-wearing male singer with long hair. They used to categorize me into "hippie culture" and "dissident singer."
-During Park's military regime, you sang protesting songs. It seems like your songs were just suitable for the period at that time.
"Not really. I couldn't sing much because many of my songs were banned from singing. Maybe it would have been a different story if I were born these days. I would have changed the world like Seo Tai-ji. It takes a long time for a music piece to be loved by the people. Let's give 30 years to see how my music is evaluated."
# Scene 3: Gray Hair, Jeans, and Black Long Boots
Hahn was designated as the promotion ambassador of "Gwangmyeong Music Valley Festival" recently held at Gwangmyeong City in Gyeonggi Province. He was also the first guest at the "Space Sympathy" of EBS from October 10 to 12 at the episode, "Reasons Why People Call Him A Great Artist." In addition, Hahn acted with Yang Dong-geun in the movie "Monopoly," which is to be released at the beginning of next year. In addition, at the end of this month, his essay "Old Boy" will be published. When praised that he never looks old, Hahn showed some anxiety.
"I am not as healthy as I used to be. I have disorders in blood vessels, and my right arm is aching. My life is so vulnerable, but I am never afraid of death. I keep creating things. I might as well face my 60th birthday doing music."
― I feel a great artist in you.
"'A great artist,' 'a hippy,' and 'a folk singer' are all simple expressions. I am just a mere 'creator' of this age. He is a genuine creator. Genuine indeed."
Hahn Dae-soo wore blue jeans and black long boots despite his disheveled gray hair.
May the last hippie never get old!
bsism@donga.com