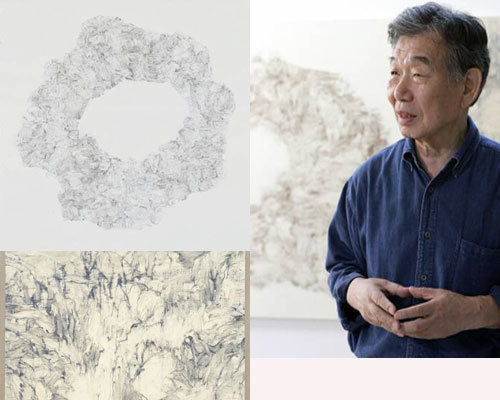 Senior Western Painter Youn Myeung-ro (79, National Academy of Arts), who has explored the identity of Korean art by leading the movement in Korean abstract painting and modern art, is holding a large-scale retrospective exhibition.
His exhibition, titled "Anima" at the Gana Art Center, located in Jongno-gu, Seoul, is an exhibition that looks back at his 45-year career of abstract painting. It features his already famous 60 pieces and an additional 10 new pieces.
During the 1970s, Youn showed the 'Cracks' series where he used the difference in the time for oil paint to dry and let that create cracks on the surface of the painting. In the 1980s, he showed the "Ollejit" series featuring free and loose images with rapid strokes of his brush. In the 1990s, he had his "anonymous land" series that showed rough and large brush strokes and a canvas full of paint.
Five years ago in 2000, he suddenly started using iron dust instead of oil paint in his "Homage to Gyeom Jae."
"I entered to the world of Eastern Painting laid out by Gyeom Jae (the Korean painter Jeongsun) by thinking over my boiling emotions during my dark and cautious youth," said the painter.
His life, where he anguished over western and eastern painting, expression and reason, and our things inside the world, shares the same path as modern Korean history that underwent many changes as well as ups and downs. Born during the era of Japanese colonial rule, and experiencing the Korean War and hunger in spring, he lived through some rough times, and just as to show it, the then young painter's work in the 1960 is dark, gloomy and full of resentment just like a bullet scar.
In order to defy the authority of the Contemporary Artists' Association in 1960, he created the Artist's Association in the same year with the likes of Kim Jong-hak and Kim Bong-tae, and held his "Mural Exhibition 1960," using the stone walls of Duksu Palace as an exhibiting space.
A one-year invitation by the Rockefeller Foundation in 1969 to the U.S. instilled new inspiration to a young Youn filled with rage and frustration. Although having a sense of inferiority in the U.S., the land of opulence, he came into contact with the diversity of modern art and started to deeply think about not "what to paint," but "how to paint."
His efforts to create something new, by knowing the old, result in him using iron dust, acrylic paint, brushes, and knives instead of the traditional Korean brush, ink and paint, and making contemporary yet traditional, western but yet Korean paintings.
According to him, he started to use iron to emphasize the message that artificial replication is impossible. Since iron changes its color when meeting with water, one cannot retouch the painting with brushing. In that aspect it is the same as Indian ink painting.
His recent works are much more simple, and although the rocks, trees, valleys, and water composing the scenery inside the image seem to have less ripples, the vibrancy and echoing of the paintings are much deeper.
Youn calls himself "an artist shuttling between Cezanne and Gyeom Jae," and emphasizes that "Gyeom Jae was a great painter like Cezanne was to western painting," but also shows his identity when he thinks about harmonizing east and west.
In this era flooded with diverse images, he is like the reincarnation of Gyeom Jae as a contemporary artist, and his paintings are his own dreamlike landscape.
The exhibition will be held until October 30. Call 02-720-1020 for more information.
Mun-Myung Huh angelhuh@donga.com