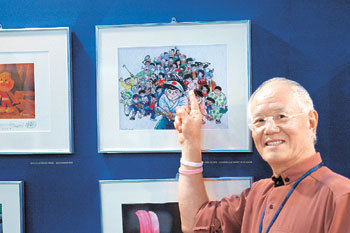 When asked if they know Chiba Tetsuya (66), Japanese comic artist extrordinaire, many people say they don't think so. But when asked if they know Hurricane Joe, most of them exclaim, "Ah! You're talking about that boxing comic?" The riot boy with high-rise hair and passion for boxing who grins while giving a good whistle, "Yabuki Joe," is a character that many comic art aficionados have seen.
The comic was made into an animated film and became popular when broadcast in Korea in the early 1990s under the title of "Contender Hurricane." The original title of the animation is "Tomorrow's Joe." The film features the journey of Joe, once sent to a juvenile reformatory, making his way toward a boxing championship against strong counterparts despite the inhospitality of society. Having had the greatest influence on Japan's Dankai generation in the 1960s, the work is widely considered as representative of the zeitgeist of the times.
Dong-A Ilbo met Chiba Tetsuya, the original author of the comic, on October 1 at the Eighth Bucheon International Comic Festival.
"This is my sixth visit to Korea. I remember outstanding Korean comic book writers such as Lee Hyun-se and Kim Dong-hwa. In particular, I was deeply impressed by 'Simple Hearted Cartoon,' which I recently read. Being an Internet-based cartoon without lines, it felt like a picture book. I also felt the work was brimming with purity, which is hardly found in Japanese comics, where sensibility prevails over emotions."
Asked about the "Korean Wave," he smiled, saying, "When I said I am going to Korea, my female friends enthusiastically asked me to bring them with me." We also asked about the "Anti-Korean Wave," a Japanese comic released in July that turned controversial for including slander against the Korean Wave.
"I do not know much about the comic book, but I believe that speaking ill of Korean culture cannot be tolerated. Various cultures coexist in Japan; China, Korea and other Asian countries each take up one quarter of the Japanese blood, with only the rest coming from the Japanese natives. We should respect culture and make cultural exchanges with others. It seems that the author of the book was ignorant of the fact. I would like to make an apology on behalf of Japanese comic book writers."
zozo@donga.com