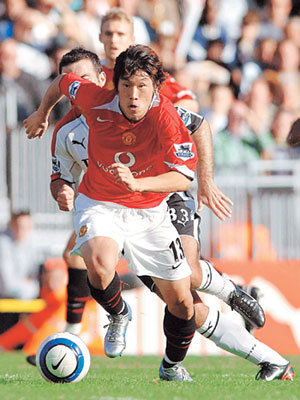 The new engine, Park Ji-sung (24, Manchester United), had an impressive game, quieting concerns about his transfer to Manchester United.
In the seventh game of the 2005~2006 English Premier League against Fulham at Craven Cottage Stadium on October 1, Park led his club to a 3-2 victory. All three United goals came off of Park's foot.
Park received nine points, the highest on his club, from local broadcaster Sky Sports, and was also selected the week's player by the same channel. In addition, he was also included in the week's best 11.
The channel evaluates players on their games and adds a word to express their play. Park, who received the highest point, was dubbed as "dynamite."
In the 16th minute, with his club trailing 0-1, Park passed through three defenders from the right side, and the frustrated defenders fouled him, resulting in penalty kick. Ruud van Nistelrooy converted it into a goal and tied the game 1-1. Two minutes later, Park tipped a pass to him to Wayne Rooney, who turned it into a goal. Manchester allowed another goal in the 28th minute tying the game 2-2, but in the 45th minute, Park received a pass, dribbled the ball and in a one-on-one situation with the goalkeeper, passed it to undefended van Nistelrooy, who scored. Manchester led once again, 3-2.
Unlike the past games where he usually played left wing, Park showed an outstanding performance playing right wing, and it is wondered whether he will change his position.
Manchester United Manager sir Alex Ferguson expressed his satisfaction, saying, "The boy`s coming on terrific. His movement off the ball and his awareness of space is exceptional for a young man."
Park will return to Korea on October 4 and join the Korean National Soccer Team headed by Dick Advocaat and play in a friendly match against Iran on October 12.
Won-Hong Lee bluesky@donga.com