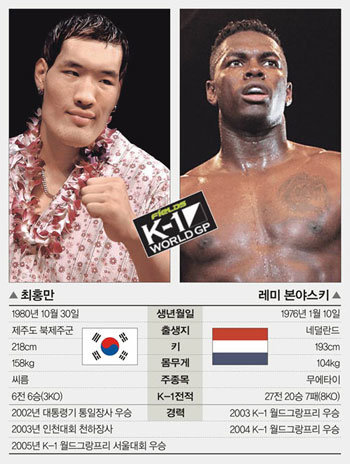 "Bonjasky's knee will not reach my face. I will squash him like a fly."
Choi Hong-man(24), 218 cm tall, challenged K-1 Champion Remy Bonjasky (29, Dutch), who he will face off on November 19 at Japan's Tokyo Dome in the 2005 K-1 World Grand Prix quarter finals.
Who is Bonjasky? He won the K-1 World Grand Prix back-to-back in 2003 and 2004, becoming the toughest active fighter and ending an era in which Dutchmen Peter Aerts and Ernesto Hoost used to rule. At 193 cm tall and weighing 104 kg, his outstanding kicks, the flying knee kicks, and flying high kicks are simply unmatched by any other player. Bonjasky personally picked Choi for his next fight.
It seems that Bonjasky has figured out the weakness of Choi's lower body, shown during his fight against American Bob Sapp. Choi's balance was easily thrown off when he reached out to punch, and even light low kicks by Bob Sapp made him easily lose his balance. Nevertheless, having gained momentum after beating Bob Sapp, Choi is determined not to go down easy.
Japan's sports newspaper Sankei Sports reported on September 25, "Only eight months after his debut, Choi Hong-man is looking forward to becoming a K-1 champion in the shortest span. Choi challenged Bonjasky, who is going for his third consecutive title, by saying that he would punch and squash him like a fly."
Mixed martial art magazine "M Fight" reporter Lee Gyo-deok analyzed, "Although as shown in Choi's match against Sapp, his techniques still need improvement. However, his spirit and mental power, in other words, the ability to take hits, have greatly improved. There is a chance for Choi if he hones defense against attacks toward his lower body and strengthens his punches."
Choi will temporarily return to Korea either on September 27 or 28, take a rest, go back to Japan on the weekend, and concentrate in his training.
Jae-Yun Jung jaeyuna@donga.com