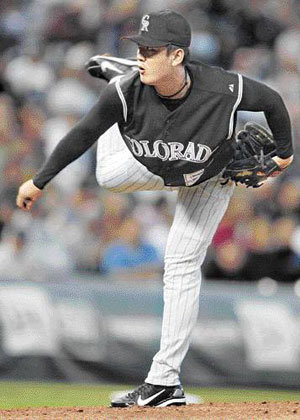 Colorado Rockies' pitcher Kim Sun-woo, known as Sunny Kim, threw a miraculous shutout at Coors Field, which is infamous for being a "pitchers' graveyard."
In the process, he held returning homerun champion Barry Bonds hitless in three at-bats. For Kim, September 25, 2005 will be his most memorable day since he came to the U.S. in late 1997.
Starting in a home game against the San Francisco Giants, the 36th start of his career, Kim had his first shutout of his life by only allowing three hits and a walk over nine innings. Colorado won the game, 6-0.
With this victory, Kim has a five game winning streak that started against the Chicago Cubs on August 22, and his record is six wins and two losses. His ERA has dropped from 4.98 to 4.40. Out of his 101 pitches, 66 were strikes.
Coors Field is the Colorado Rockies' home stadium and being located in the middle of the Rocky Mountains, the air resistance is small. Hence, the distance of hits is increased and that is why it is called a graveyard for pitchers.
Kim's shutout is the first one at Coors Field in four years. Former Colorado pitcher Tom Johnson threw the last shutout there in 2001.
Furthermore, Kim became the second Korean Major Leaguer to pitch a shutout, the first being Park Chan-ho of the San Diego Padres. Park threw two shutouts during his career, the first one in 2000 against San Diego, and the second in 2001 against Milwaukee, both as a Dodger.
He also won his showdown against the best active slugger, Barry Bonds, who after returning from a knee injury, has hit homeruns in four consecutive games, and has currently 707 career homeruns. In other words, Kim's salary, which is roughly about $300,000, almost at the bottom of the major leagues, overwhelmed Barry Bonds, who is being paid $22 million this year.
Barry Bonds was the first batter of the second inning, but grounded out to the shortstop on a two-seam fastball by Kim. In the fifth, Bonds flew out to center field after hitting a 150 kmph fastball. In the seventh, Bonds again grounded out to second, and ended up with no hits in three tries. Prior to this game, Kim was very poor against Bonds, giving up two homeruns and walk in three encounters.
After the game, Kim said, "Everything was comfortable. Catcher JD Closser's lead was good and I received help from my fielders and batters. In the ninth, I was a bit dizzy and felt I was getting cramps in my shoulders, but I pitched through it. I tried to face Bonds without any runners on base."
During the whole game, Kim only risked giving up runs in the third when Pedro Feliz hit a double, and in the eighth when Moises Alou and Ray Durham hit consecutive hits. He cruised through the other seven innings.
In the third with runner on third and no outs, Kim hit a grounder to the shortstop and added an RBI.
uni@donga.com