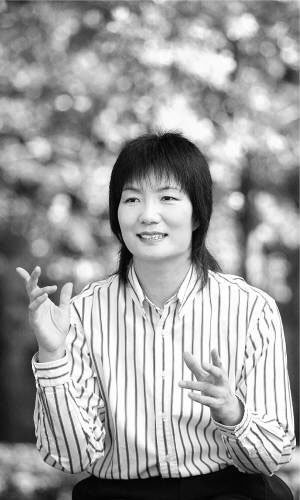 Female basketball player Park Chan-sook finally achieved her lifelong dream at age 47. In a surprise move last month, she was appointed as the head of the national women's basketball team.
It is the first time ever that a woman has been appointed as a coach, as well as her first time as a coach. Will she do well in her job? There is stress involved; nowadays, she gets headaches and insomnia. I met with her right before she was headed to the dentist because her gums also are swollen.
"Giving me, someone who has never even been a team coach before, the job of the national team coach is making me feel like I'm coming down in a parachute. However, don't you think that they gave me the job because their expectations are high? Coaching the national team has been a lifelong dream. I want to do something significant with it."
Park was picked to play on the national team in 1975 when she was only 16 and a sophomore at Soongeui Girls' High School. From then until she got married and retired in 1985, she led the national team to a 1978 Asian Basketball Championship triumph, runner-up in the 1979 World Basketball Championship, the silver medal at the 1984 LA Olympic Games, and walked the path of a star.
Nevertheless, a coach should understand the mindsets of not only the stars but also the benchwarmers.
"Although I worry about it, I think it will work out fine when I work on coaching problems with assistant coach Lee Young-joo (39, Shinhan Bank Coach). The coach's job is to become distressed and more distressed, and still bear it, and I am worried that I will become a bit older because of that" (laughs).
She is a straightforward and optimistic person. Whatever the issue, she faces it head on. She dislikes players that flinch passively. However, she has always had her own particular tastes. Before she retired, when she went to play abroad she always took hot pepper paste and Kimchi with her, and steamed her own rice in her room.
"My term is until the Macao East Asian Games (October 29 to November 6). It might end as a one-act drama, but shouldn't I do well, so younger women players can follow my footsteps? I plan to compose the team by looking ahead to the 2008 Beijing Olympics and use young players. The national team will not necessarily be composed of best players, but I don't think anything is impossible if we bond tightly together."
Park plans to stay with the players during training. That is because she believes that is one way she can become a "warm" coach. Her husband Seo Je-seok (52), who works in trade business, and her university student daughter (20) and elementary school son (10) have all approved of mom's long-term stay away from home.
Park started playing basketball when she was in fifth grade at Soongeui Elementary School. The only reason she was playing at that age was because of her height of 170cm. But her original dream had been to become a hair designer. She likes the songs "Dialogue of the Dream" by Lee Bum-young and Han Myung-hoon, and "You're the Best" by Lee Chang-young.
She first drank at the age 39, and can drink as much as about a bottle of soju.
"When I stand at the court once in a while, my heart is flying high, but my body is receding. Now it is more exciting and fun to meet old teammates than playing basketball."
Hwa-Sung Kim mars@donga.com