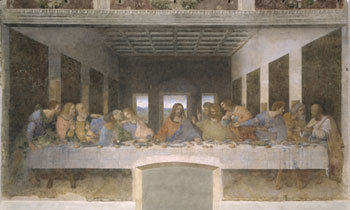 By now, "The Da Vinci Code" by Dan Brown has become a cultural icon. The novel is a million-seller many times over, with some two million copies sold in Korea alone and more than 25 million copies sold worldwide. It has been transformed into tourist products, a movie, and a video game. Its shocking hypothetical premise, which flies in the face of orthodox Scripture, has spawned countless "reference" guides and heated theological debates.
The National Geographic Channel's "Unlocking Da Vinci's Code," set to air from 7:00 p.m. to 9:00 p.m. on September 24, is a video commentary on Brown's blockbuster novel. What sets this documentary apart is that in it, Brown personally accounts for the various claims made in the book. Although there have been other documentaries about "The Da Vinci Code" on Korean television, this is the first to feature the author himself.
The program, hosted by ABC reporter Elizabeth Vargas, takes the form of a battle of words. Scholars and Catholic priests directly attack the hypothesis outlined in "The Da Vinci Code," and Dan Brown fights back by offering the grounds he based his hypothesis on.
For instance, the program features a fierce debate over the claim that "Jesus had a child in wedlock." Divinity professor Darrell Bock asserts, "If we look at the Apostle Paul's letter in the Bible, we can surmise that Jesus was unmarried." Brown refutes this assertion by saying, "Since it would have been a serious offense for a young Jewish man of that period to be unwed, there would have been some record of the fact. But there's nothing."
There's another heated face-off over the claim that Leonardo da Vinci included Mary Magdalene among the apostles gathered around Jesus in his famous portrayal of the Last Supper. Arguing that "many of da Vinci's works covertly convey things he could not say outright," Brown maintains that "The Last Supper" contains information that contradicts orthodox doctrines. But da Vinci scholar Jack Wasserman counters by saying that the person alleged to be Mary Magdalene is "without doubt the Apostle John," and that he was "pictured in a feminine manner because he was young and beardless."
What naturally emerges through this series of debates is that Mary Magdalene was most likely not a prostitute. The documentary supports the assumption that Magdalene was a close friend of Jesus rather than a prostitute, speculating that the patriarchal structure of the Catholic Church may have distorted her originally high status among Christ's followers. The scholars and priests featured on the program do not raise any notable objections to this theory. A page of history hidden by the veil of time has once again come to light.
kimjy@donga.com