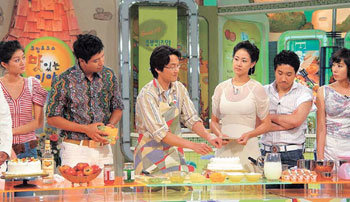 "Quiz King" (Directed by Yoo Sun-dong, starring Han Suk-gyu, Shin Eun-gyung) is a comedy, and the catchphrase for the movie reads: "A male housewife's delightful coming-out."
As can be inferred by the phrase "coming-out," this movie comes with the premise that it is an embarrassing secret for a man to stay at home. The main character, Oh Jin-man, betrays this premise and appears on a TV quiz show to reveal his identity to the world. He suffers a brief period of despair when his wife leaves home because of her embarrassing husband, but the couple end up living happily ever after.
Han Suk-gyu is natural and comfortable in his role, starring as Oh Jin-man, a former elite corporate worker who has been a homemaker for six years. His sudden transformation, wearing mascara, fake eyelashes and high heels, is hilarious. Shin Eun-gyung stars as his wife, a master of ceremonies at a broadcast station.
Jin-man enters a mutual-aid union hoping to receive more interest, but when someone runs off with the money, he is forced to raise 30 million won. He decides to go for the prize money in a quiz show for housewives, and enters the preliminaries dressed as a woman. His identity is revealed, however, but the broadcast station realizes this could be a hit and allows him to enter the show anyway. An expert in both current affairs and homemaking, Jin-man wins for three consecutive weeks and becomes a celebrity.
Being a "male homemaker" makes for interesting subject matter, and this movie makes full use of this fact. It switches the traditional roles and lines of husband and wife and uses that as a recipe for laughter. He cannot pass a freebies corner in a mart, throws himself into a display to grab a cuttlefish that is suddenly on sale, and run-walks with the neighborhood women for a better body. Jin-man's everyday routine provides calm humor to the audience. In addition, the neighboring housewives who embrace Jin-man into their group instead of isolating him, and a firm father who subtly encourages his son saying "If you're going to do it, do it right," are refreshing gestures.
However it is hard to relate to Jin-man's choices because there is no explanation as to why Jin-man, a graduate of a prestigious university, gave up job-searching and became a housewife, or what kind of conflicts he went through during the process. Also, it is strange that Jin-man has so much fun cooking and raising a child, when the work is hard enough for an average housewife to cause depression.
Seemingly trying to emphasize the value of homemakers through the main character, this movie feels uncomfortable in the way it reveals the negative commonly accepted ideas regarding housewives, such as playing cards out of boredom or gossiping over dramas they watched last night. Moreover, the conclusion, which ends with Jin-man becoming a "superwoman," or better yet, a "superman" who can be both a homemaker and a celebrity, might be slightly disturbing to those few male homemakers and the many female homemakers.
Yoo Sun-dong, who was the co-screenwriter for "Arahan Jangpung Daejakjeon," debuts as a director with this movie. To be released on September 29. Rated for audiences 12 and up.
Mi-Seok Koh mskoh119@donga.com