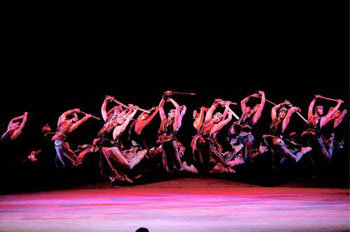 The masculine ballet "Spartacus" will soon raise its curtains in Korea.
Russia's Bolshoi Ballet Company will perform "Giselle," the renowned romantic classic ballet, along with "Spartacus," which is a modern ballet, in Korea at the Sejong Center from October 5 to October 9.
Although both performances are widely recognized as the most popular performances of the Bolshoi ballet company, if one were to select the better performance it would undoubtedly be "Spartacus."
The large-scale ballet "Spartacus" combines the choreography of living ballet legend Yuri Grigorovich with the music of Aram Khachturian to create a 20th century masterpiece that one usually would not have the chance to watch in Korea, where classic romantic ballets are usually featured.
Due to its feather-like delicate movements, ballet is usually recognized as a female art. Men would usually be limited to support roles illustrating the performances of female ballerinas. However, the 30 male ballerinas who perform in the grand military ballet "Spartacus" will engage in endless twirls and prances, giving its audience a taste of passionate male ballet.
The background of the story is ancient Rome in the year 1 B.C. in which slave gladiators craving freedom rebel against their enslavement.
From the perspective of a movie watcher, the ballet is a masterpiece worth mentioning along with "Ben Hur" or "Gladiator." The slave Spartacus forms a rebellion along with other gladiators to fight for freedom, but in the end is defeated against the Roman General, Crassus, and faces a dramatic death. The ballet also features a love story between Spartacus and his lover Phrygia, and Crassus and his mistress, Aegina.
It has been 13 years since the Bolshoi ballet group performed "Spartacus" in Korea. The first and last domestic group performance of "Spartacus" took place in 2001 by the Korea National Ballet. Due to the shortage of professional male ballerinas, the large-scale male ballet masterpiece, "Spartacus," which usually cannot be performed by conventional ballet companies, had to enlist modern dancers as well as professional ballerinas in order to make the military dance possible.
Lee Weon-guk (president of the Lee Weon-guk Ballet Company), who had performed the role of Spartacus in the Korea National Ballet, commented, "The simple fact that I was able to perform in Spartacus, a piece that places unprecedented emphasis on the movements of male dancers, was enough compensation for me as a professional ballerina." He also added, "The audience should pay attention to the highly difficult movements of the leading male and female actors and the military dances of the Roman soldiers in the first act, the military dances of slaves uniting to rebel in the second act, and the scene where Spartacus dies in the third act."
"Giselle" plays October 5-7 at 8:00p.m.; "Spartacus" plays on October 8 at 6:30 p.m. Prices: 50,000-250,000 won. Telephone: 02-751-9682
Sue-Jean Kang sjkang@donga.com