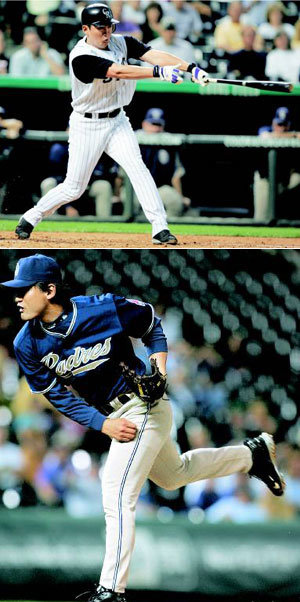 The regional broadcast of the September 20 game between the Colorado Rockies and the San Diego Padres focused on the two Korean pitchers that appeared during the game, Park Chan-ho, Kim Sun-woo, and one sidelined by injury, Kim Byung-hyun. Neither Park nor Kim were dominant or ended up as the pitcher of record, but there was plenty to see, nonetheless.
Park Chan-ho-
For a top-notch starting pitcher who earns $15 million a year, it marked the first time in four years and two days since Park Chan-ho came into a game as a relief pitcher.
Park, removed from the starting rotation after a poor outing against the Los Angeles Dodgers on September 12, took over the mound to relieve starter Brian Lawrence with the bases loaded and one out in the third inning with the Padres leading, 5-4. Park's last pitch out of the bullpen was on September 18, 2001. At the time it was to check up on his body condition after the 9-11 terrorist attacks. This means his official bullpen outing was his first since 1997.
Park's opponent, by coincidence, was Kim Sun-woo. It was the second time in history that two Korean big leaguers faced each other since Kim Sun-woo forced Seo Jae-weong to ground out to third base last year in July 22. This time, Kim scored a RBI with a sacrifice fly to right field.
With his team leading 6-5, Park was replaced by a pinch hitter in the sixth, but was unable to record a win with no support from the bullpen. He gave up two hits, two walks, and a run in two and 2/3 innings.
Kim Sun-woo-
He shone on the plate more than on the mound. "Ninth Batter" Kim's batting average up until the previous day was a mere .100 (1-10).
However, with his team trailing 0-2 in the second inning with two outs and runners on first and second, Kim knocked his first run of the year with a single to left field. In the third inning with the bases loaded at one out, he added another RBI against Park, and even laid down a successful sacrifice bunt in the fifth inning to cap off a successful night at the plate.
As for his main job as a pitcher, Kim failed to deliver, giving up seven runs (six earned) on 11 hits and one walk in 5 2/3 innings.
Kim Byung-hyun-
Meanwhile, Kim Byung-hyun will be unable to make his scheduled start on September 21 due to a right hip injury. The local press also questioned his chances of starting the game against San Francisco on September 26.
uni@donga.com