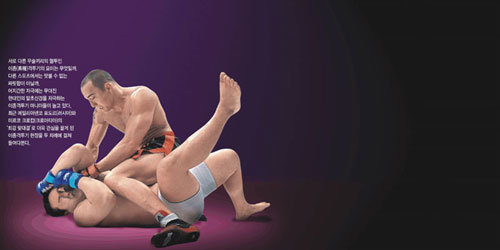 Jeong Jong-uk (20) quit his career as a cook and started a new career in the field of the mixed martial arts (MMA). He said that he wanted to go pro since his prospects were good.
Two months after he started competing on the MMA circuit, he attended the first Sprit MC (Martial Challenge) for heavyweights, but lost to Lee Tae-hwa (23), a graduate student, by TKO. Lee, who was a wrestler until his sophomore year, has steadily worked out after he quit wrestling and studied hapkido, a form of self-defense. Lee was not known well before the match.
In this first Korean amateur martial arts championship, 38 contestants and about 200 spectators attended, most of whom were in their twenties. There were office workers and even high school students. Fathers also came to see their sons fight. An undergraduate student who majored Taekwondo said he wanted to know how strong he was. Another college student said that he came to fight in order to fight the loss of his mother. Everyone had his or her stories.
In the female matches, Lee Hyeon-hui (25), a college instructor, had a match with Kim Yong-suk (25), a Taekwondo master. Both were in the Fourth Dan(level), but Lee took Kim not with her feet or fist, but with a ground skill move, an armbreaker. Both fighters are studying Brazilian Jiu-Jitsu and say they are looking for efficient skills that can help them overpower men.
The number of martial arts fans has been growing and has now reached approximately two million in cyberspace. There is an Internet martial arts club with around 550,000 members.
However, the number of fighters is still not large. The number of martial arts gyms is 30 to 40 around the country, and the number of pro fighters who can fight in the matches like PRIDE is around 300. The number of fighters eligible for K-1, a stand-up fighting competition, is estimated to be about 1,000.
There are more stand-up fighting tourneys that will be held by the end of this year. In the case of KOMA, another stand-up fighting tourney, the prize money for the winner is 10 million won. "In recent years, because several new martial arts have been introduced, the number of fans keeps growing every year," said Park Kwang-hyun, the head of Entrian Company, which arranged KOMA. He expects a brighter future for the MMA.
Under circumstances such as these, there is a strong trend to import foreign martial arts, including Jiu-Jitsu, one of the most popular ground skills. When it comes to Jiu-Jitsu, there were no instructors even a few years ago, so a few foreign professors who learned it used to teach people as a hobby. But, now there is a gym that is devoted to the art with a coach from Brazil.
Won-Hong Lee bluesky@donga.com