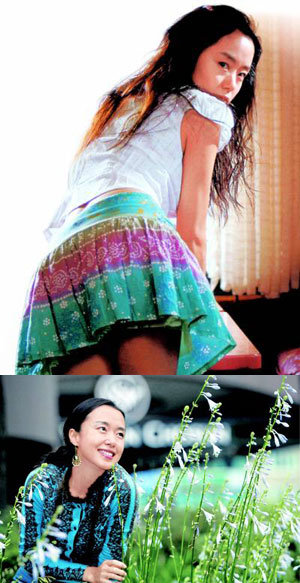 "You Are My Sunshine" (directed by Park Jin-pyo), ready to be released on September 22, contains a direct narrative on the theme of love. Eun-ha, a sexy waitress at a cafe, is infected with the HIV/AIDS virus (Jeon Do-youn) and an innocent bachelor at a rural village, Seok-jung (Hwang Jung-min) is a person "willing to die for his love" in this tear-provoking movie.
We met Jeon Do-youn (32), who is ready to send a love message to the audience again after "My Mother The Mermaid."
--This time, you play the role of a sexy waitress infected with AIDS. Wouldn't that harm your image as an actress?
"You know, anybody wants to fall in love but they don't trust it. I thought I would get to trust it by being in the movie. But Eun-ha and I are different. I am brave in making decisions. I don't think any role would influence my image. In fact, I want to look prettier before my boyfriend and close friends."
--"Contact"; "Happy End"; "I Wish I Had A Wife Too"; "Scandal," and so on. All of your movies deal with love (including affairs), right?
"Love is my top priority. I simply enjoy it. I love books about it, and anything about it, basically. Without love in my life, I would become an old woman all of a sudden."
--But "No Blood No Tears" was not a love story, right?
(Surprised) "No way. I did the movie because of the last words by "Dokbuli" (Jeong Jae-yeong), a gangster, to Su-jin (Jeon Do-youn). He said, "You hate me that much? Buzz off!" It really was something to me. 'Dokbuli' is violent, but he never hits her with his fist. That's a way of expressing love in his own way."
--It is a love story with a bachelor living in a rural village. Don't you want to do movies where you love decent and stylish guys?
"I would never say no to that (laughing). (Playfully stroking a part of her forehead) I would welcome doing one with Jang Dong-gun."
--Your kissing scene was provocatively realistic. It seemed as if you really loved that person.
"I had no personal feelings. (Laughing) I was not starving for one either. I just believed what I was feeling was real love. I believe how you think and act is well reflected in kissing scenes. I am the kind of actress who puts all her energy into the given role."
--That is why your male fans imagine being in love with you in their fantasy world, hoping "Wouldn't she love me like that?"
"I would do that in real life. (Laughing) That would not be their fantasy. Don't call it that."
--Suk-jung's presents are some cow's milk he milked himself, a rose, and a love letter to Eun-ha. Have you ever received anything like that from a man?
"I am not used to receiving things from men. I feel more comfortable giving things. I have big ups and downs with my feelings and one day I was happy to receive flowers on a rainy day with a letter saying, "Just thought you might feel lonely."
--Men will love you more because of that.
"Why? Is it because I love giving things?" (Laughing)
--What you wore in the movie, your panties and bra with a dotted pattern on a natural color, was really impressive.
"I thought of wearing white underwear to show the purity and innocence of a woman who does not look so outside. But it was not something Eun-ha would do, so I changed it to be more like her."
--You are in your early thirties. How do you feel about that?
"I am really a healthy person, but these days after I did shooting for days with no sleep, I could see the fatigue on my face. It made me somewhat worried. You know how there are many young and pretty actresses out there. But I don't want to look prettier compared to them. I just want to go with the natural flow, getting older as I am."
Seung-Jae Lee sjda@donga.com