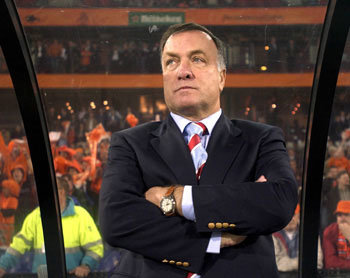 Dick Advocaat (58) has been named the new head coach to lead the Korean football team in the 2006 World Cup in Germany. Coach Pim Verbeek (49), who helped Guus Hiddink lead the Korean team to the semi-finals in the 2002 Korea/Japan World Cup, will once again work as a coach for the team.
The two men worked together as head coach and coach for Germany's Borussia Mönchengladbach from November last year and for the UAE national football team this July. They both resigned from their posts with the UAE team after their recent decision to coach the Korean team.
Advocaat was a player with the Dutch team FC Utrecht. He ran in a staggering amount of 451 games in the Premier League. He was a coach for the Dutch national team under head coach Rinus Michels who is called the pioneer of "total soccer (a tactic where all players are on the offense and defense)" in 1984. As charismatic Michels was called "general," Advocaat, who had a similar personality, was called "little general."
Advocaat led the Dutch national team twice: once to the quarterfinals in the 1994 World Cup in the United States and to the semifinals in EURO 2004 (2004 UEFA Champions league); he also led the Netherlands' pro team PSV Eindhoven to victory in 1997.
However, there has been much talk of his dogmatic personality, and he was strongly criticized by the Dutch media and public because of his player deployment decisions in EURO 2004. He used the "4-2-3-1 system" in Europe and frequently used strategies based on strong defense.
Meanwhile, Verbeek played a big role in selecting or finding players like Ahn Jung-hwan, Hwang Sun-hong, and Kim Nam-il at the time of the 2002 World Cup. He is familiar with Asia as he later became head coach of the Kyoto Purple Sanga in the Japanese Professional Football League (J-League).
The Korea Football Association devoted much effort in scouting Verbeek who knows Korea well so that Advocaat can get a quick grasp of the Korean players in a short time. However, as three years have passed since the 2002 World Cup, Verbeek himself is expected to have a difficult time in analyzing the players anew. The association asked Verbeek for advice in the process of selecting a head coach, and it is known that he stated that he wished to work with Advocaat.
Won-Hong Lee bluesky@donga.com