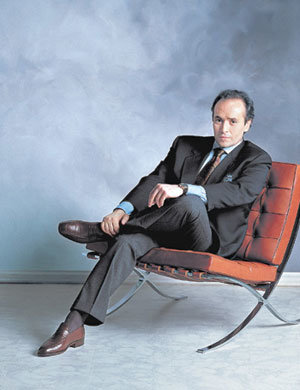 One of the world's greatest lyric tenors, Jose Carreras (59), was optimistic about the chances of a reunion with Placido Domingo and Luciano Pavarotti in an email interview with Dong-A Ilbo. Carreras will have a recital at the Concert Hall of the Seoul Arts Center at 8:00 p.m. on September 30.
"The three of us have different personalities and different voices, but we all have passion for music and enjoy being on the stage together," Carreras said. "I believe that our voluntary performances will continue."
The three tenors fascinated music fans from around the world at the "Three Tenors Concert" held during the 1990 Rome World Cup and the 1994 Los Angeles World Cup. They still perform regularly despite their advancing ages. Pavarotti (70), who plans to retire sometime next year, is on a tour of 40 cities around the world, which he calls his "farewell performances." And Domingo (64) has said, "I want to play the title role in Verdi's 'Simon Boccanegra' before I retire."
Carreras has strong ties with Korea. He held a large-scale gala concert with soprano Shin Young-ok in 2003 at Seoul World Cup Stadium. "Korea reminds me of 'dynamism' and I took home good memories from Korea, including its excellent audiences," he said.
Carreras included "With Love," a song from the Korean music group "Sunflower" on an international record containing songs sung in 18 languages in 2001. He will also sing Korean songs in his upcoming Seoul concert.
"It is a daunting challenge for me to sing in Korean. But singing in the language used where I perform shows that I have made efforts to please the fans. It is very important because it comes from the heart," he said.
His concert in Korea is special in that it will be a solo concert held at an indoor concert hall, not in a huge stadium. It will be a good opportunity for concertgoers to enjoy his breathing and rich facial expressions directly, not through opera glasses or a large screen. David Gimenez will conduct the orchestra. And Soprano Park Mi-hye, a professor at Seoul National University, will be on stage as a special guest.
Carreras had suffered from leukemia since 1987. He performs in only one or two operas a year these days and focuses on concerts and recitals. A considerable share of the profits from his performances goes to the Jose Carreras International Leukemia Foundation. "It is my way of paying off what I owe music fans from all across the world as I struggled with the disease myself," he said.
He got the better of his disease thanks in part to his indomitable will. He moved 150, 000 concertgoers in his 1989 return performance, passionately singing "Vincero! I Shall Win," the aria from the opera "Turandot."
His voice is considered darker after his victory over leukemia, but he takes that observation in stride. "Maybe our lives and our voices change that way anyway," he said.
Carreras cited Mexico-born tenor Rolando Villazon (33) as promising young tenor who could follow the legendary Three Tenors. "I recently heard Villazon singing. I think that he is one of the great tenors of the young generation," he said. "I want young tenors to keep in mind that they are born to sing."
Tickets for the performance are 50,000 – 250,000 won. For more information, call 02-541-6234.
Seung-Hoon Cheon raphy@donga.com