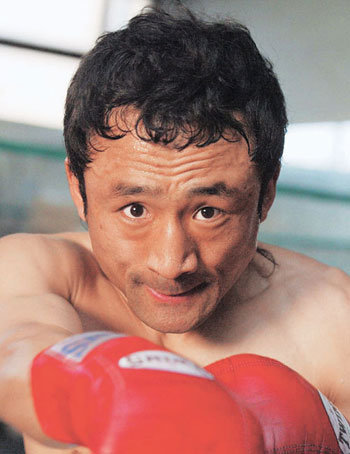 A splendid stage has been set for a middle-aged boxer with a relentless determination.
Chung Kyung-seok (41), who became the first man to become Korean Champion over age 40, will have his Pan Asian Boxing Association (PABA) Title Match with boxing officials gathered from all over the world.
On September 7, Namyangju Promotions President Kim Eun-ki said that Chung has been selected as the Korean boxer to fight in the November 3 match at the Namyangju City Cultural Center ring as a special event for the World Boxing Association (WBA) general assembly.
For the first time ever, the WBA general assembly will be held in Korea, and the chairman of the WBA, Venezuelan Gilberto Mendoza, and officials from 91 member countries as well as boxing promoters and their champions will come from all over the world. World famous American boxing promoter Don King is also expected to attend.
Chung will face off against a Philippine boxer in the special match for the provisional title of the PABA super-lightweight class. The provisional title allows two champions in a single weight class who will face each other to have one final champion.
Chung came to Seoul recklessly when he was only 17 and started boxing while working as a deliveryman for a Chinese restaurant. He quit boxing for a while in order to earn his living. However he could not give up his dream of becoming a champion. After becoming the owner of four Chinese restaurants with 30 employees, he became a professional boxer at age 37, and shed tears of joy in the ring when he became Korean Champion last year,
He thought he had won his first title defense match, but he heard news that the outcome was reversed when faults were found in the scoring. Although he was frustrated at the unprecedented case, he cleanly accepted it. Nevertheless, he thought about continuing boxing. The ring was a stage of glory but also a stage of solitude.
"It is lonely up there in the ring. No one knows how it feels," he said. For him it is also a continuation of pain. "When I work out until I feel like fainting, I ask myself, 'why am I doing this?'"
Even so, he did not retire. Although he felt the limitations of his body and stress from neglecting his business, he could not quit.
"I will do my best until I cannot. Then I will leave no regrets behind. That's what I think. Living is also like that."
Won-Hong Lee bluesky@donga.com