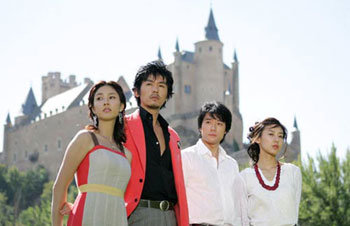 Is it an immoral show emphasizing an inappropriate relationship, or a human drama with maternal love as its theme?
SBS's new weekend drama "Dear Heaven" (Korean title: "Haneulisiyeo"), set to debut on September 10 as the follow-up to the show "Summer Typhoon," is becoming the subject of fierce controversy with its first episode yet to air.
The problem is the plot's premise: it involves an irregular family relationship, with a woman deliberately marrying her long-abandoned daughter to her own stepson.
Ji Yeong-seon (played by Han Hye-suk) finds her lost daughter Lee Ja-gyeong (Yun Jeong-hi), whom she had abandoned in her youth. As if guided by the hand of fate, Lee is already going out with Ji's own stepson, Gu Wang-mo (Lee Tae-gon). Ji does everything in her power to marry Lee to Gu, and eventually succeeds. The two women form a curious double relationship, as at once mother/daughter and mother-in-law/daughter-in-law.
Im Seong-han (45), who is the writer for "Dear Heaven," has written big hits in the past, but has also come under fire for using provocative subjects for central plotlines. In her 1999 drama, the plot focused on two families doubly related by marriage; in her 2003 drama, the protagonist stole her half-sister's fiancé in order to take revenge on the father who had abandoned her; another drama, aired in 2004, was about a female shaman. They each had been the target of criticism from viewers and the media.
Critics argue that her upcoming drama is even more provocative than her previous works. The first few episodes of the show feature a love triangle between Lee, Gu, and a character named Kim Cheong-ha, who is Lee's maternal uncle according to the family register. On the internet bulletin board for the show, opinion is divided between those who decry it as "incestuous" or "immoral," and those who praise its "fresh subject matter."
SBS is declaring outright that the love relationships in the show are not incestuous. In the show's production announcement on September 6, the production staff stressed that Kim is the brother of Lee's stepmother Bae Deuk (Park Mi-hae) and thus in no way related to Lee by blood, and that Lee and Bae are more like strangers than family. Similarly, the implication is that Lee's relationship with Gu is not incestuous since Gu is Ji's son by marriage only.
Director Lee Yeong-hi insisted that the show's theme was "deep maternal love, with a mother reclaiming her own daughter as a daughter-in-law in order to atone for having abandoned her as a baby." The question of whether this new show, featuring a cast largely composed of unknown actors and actresses, offers a fresh take on relationship dramas, or manipulates a provocative plot to attract higher ratings, will now need to be answered by the viewers themselves.
zozo@donga.com